Research article
Open Access
Seasonal rainfall at long-term migratory staging sites is associated with altered carry-over effects in a Palearctic-African migratory bird
BMC Ecology
BMC series – open, inclusive and trusted
2016
16:41
Received: 13 May 2016
Accepted: 19 August 2016
Published: 4 October 2016
Abstract
Background
An understanding of year-round habitat use is essential for determining how carry-over effects shape population dynamics in long-distance migratory songbirds. The recent discovery of long-term migratory staging sites in many species, prior to arrival at final wintering sites, adds complexity to efforts to decipher non-breeding habitat use and connections between sites. We investigated whether habitat conditions during migratory staging carry over to influence great reed warbler (Acrocephalus arundinaceus) body condition at final wintering sites in Zambia. We asked whether the presence/absence and strength of such carry-over effects were modified by contrasting rainfall conditions during 2 years.
Results
First, we found that individuals staging in a dry year had higher corticosterone (CORTf) and stable nitrogen isotope values (suggesting higher aridity) than birds staging in a wet year, indicating that regional weather affected staging conditions. Second, we found that carry-over effects from staging habitat conditions (measured via carbon and nitrogen isotopes) to final winter site body condition (measured via scaled mass index and β-hydroxybutyrate) were only present in a dry year, suggesting that environmental factors have consequences for the strength of carry-over effects. Our results also suggest that wet conditions at final winter sites may buffer the effects of poor staging conditions, at least in the short term, since individuals that staged in a dry year had higher scaled mass indices in Zambia than individuals that staged in a wet year.
Conclusions
This study provides a first insight into the connections between long-term migratory staging sites and final wintering sites, and suggests that local environmental factors can modify the strength of carry-over effects for long-distance migratory birds.
Keywords
Great reed warblersLong-term stagingPlasma metabolitesMigrationStable isotopes
Background
The population dynamics of migratory animals may be affected by factors operating at multiple discrete sites throughout the annual cycle. Long-distance migrants must contend with extreme variation in weather conditions, habitat types and habitat quality, imposed by sites thousands of kilometers apart. This variation can be exacerbated by anthropogenic impacts that disrupt links between specific habitats and crucial periods of the annual cycle [1]. Breeding conditions are well known to have important consequences for population dynamics, but evidence is growing that conditions experienced during non-breeding seasons may be at least as important [2], such that conditions during migratory staging may carry over to affect future breeding success [3]. However, identifying such carry-over effects (defined as processes in one season influencing the success of an individual in the following season) between migratory staging sites has been challenging owing to difficulties in tracking small-bodied migrants across multiple sites throughout the annual cycle [3].
There is strong evidence that winter weather conditions, specifically rainfall effects on food availability, play an important role in phenology and reproductive success of migratory birds, such that low precipitation during the winter has long-term effects on population dynamics [4–7]. However, understanding individual carry-over effects from wintering ground conditions requires knowledge of movements within the non-breeding season and the specific habitats thus encountered. Recently, new light has been shed on the largely unknown winter migratory patterns of long-distance migratory songbirds, using miniature light-level geolocators [8]. Surprisingly, geolocator data show that rather than single wintering sites or "itinerant" winter movements [9], the use of long-term staging sites en route to core wintering grounds may be widespread among migratory songbirds [10–14]. Long-term staging sites complicate our understanding of year-round habitat use for migratory birds because variation in habitat quality among staging sites may have important consequences for population dynamics via carry-over effects on individual survival and condition.
Studying how conditions at multiple sites cumulatively affect year-round individual success is particularly important for Palearctic-African species conservation, management, and effective reserve design, as sub-Saharan wintering migrants are in a state of severe population decline [15, 16]. To begin addressing these shortcomings we studied the great reed warbler (Acrocephalus arundinaceus), a 30 g long-distance Palearctic-African migratory songbird that winters widely across sub-Saharan Africa, in southern Zambia. During autumn migration, great reed warblers pause for 2–3 months to moult their flight feathers before continuing on to their final winter sites further south where moult is completed [17]. We focused on rainfall as a potential driver of carry-over effects because its effect on food availability makes it a critical environmental factor for insectivorous birds [18]. We studied great reed warblers during 2 years with contrasting rainfall conditions at staging areas (estimated from isotopic data; see "Results"). Carry-over effects are unlikely to be uniform across years and our understanding of the processes that are capable of modifying their strength remains limited. Natural variation between our study years allowed us to investigate whether the presence and strength of carry-over effects vary depending on environmental conditions.
We first established that differences in rainfall between years affected the conditions birds experienced while staging. To do so, we utilised the fact that great reed warblers replace their flight feathers during staging [
19
], such that individuals arriving in Zambia carry an isotopic and hormonal signature of the conditions they experienced previously during staging. Specifically, we analysed stable isotope ratios of nitrogen (
δ
15
N) and carbon (
δ
13
C), and corticosterone (CORT
f
) levels in flight feathers grown on staging grounds (Fig.
1
). Both
δ
15
N and
δ
13
C isotope ratios have been used previously to assess habitat conditions experienced by migratory birds [
20
–
22
], trophic position in food webs, or marine versus freshwater ecosystems [
23
].
δ
15
N increases with greater aridity, especially in Africa [
24
–
26
], and
δ
13
C decreases as C
3
-dominated plant communities, which are associated with moister and cooler environments, become less common [
27
]. Corticosterone is a hormone involved in energy management and high levels can indicate compromised individual condition, reflecting a response to stressors such as reduced food availability and poor habitat quality [
28
–
30
]. CORT
f
is an integrated measure of the hormone and reflects conditions experienced over the feather growth period ([
31
,
32
]; for a review, see [
33
]). We expected that if birds indeed experienced drier conditions during staging in 2011, this would be recorded in their flight feathers as higher
δ
15
N values (reflecting higher aridity) and higher CORT
f
(reflecting a physiological response to poor conditions); however, we expected no difference in
δ
13
C values since carbon isotopes are relatively stable between years [
34
].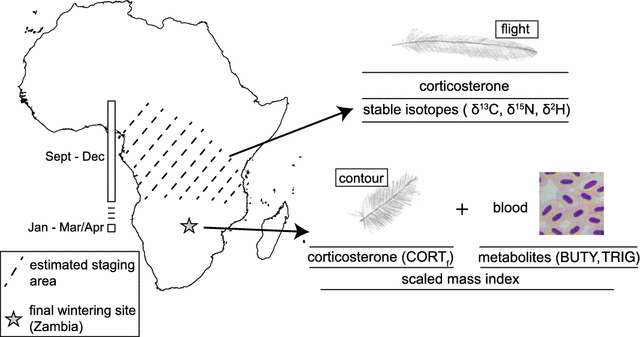 Second, we asked whether variation in environmental conditions experienced during staging affected the presence and strength of carry-over effects. We used several physiological metrics to estimate condition on wintering grounds. Plasma metabolites are indicators of energetic state: high circulating levels of triglycerides in plasma (hereafter 'TRIG') indicate fat deposition and foraging rates over short time-scales [
35
,
36
], whereas high circulating levels of β-hydroxybutyrate (hereafter 'BUTY') in plasma indicate dietary fasting, as BUTY is synthesized from fatty acids and largely replaces glucose in fueling metabolism during fasting [
37
,
38
]. We also used scaled mass index [
39
] to estimate the amount of stored fat. Finally, to gain insight into stress levels on the final wintering site, we measured CORT
f
levels in body feathers which, unlike flight feathers, are replaced in Zambia after staging (Fig.
1
). Since poorer staging conditions should exacerbate differences in quality between individuals, we predicted that in 2011, a year with below-average rainfall, carry-over effects would be stronger than in 2012, a year with above-average rainfall (Fig.
2
).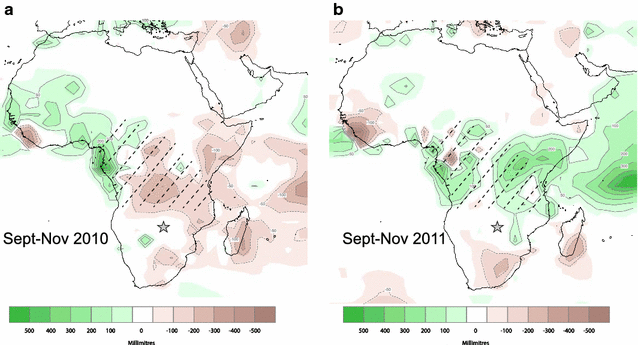 Discussion
Recent research has found that migratory songbirds wintering in sub-Saharan Africa frequently use long-term staging sites before reaching their final destination winter sites. Our results support the hypothesis that local conditions during staging carry over to influence individual condition on the final wintering grounds, but only in years when rainfall conditions are poor. We found that in a drier-than-average year on staging sites (2011), birds had higher CORTf levels and δ 15N values, respectively reflecting exposure to stronger (or more pervasive) stressors and higher aridity, than birds staging in a year with above-average rainfall (2012; Fig. 3). This indicated that rainfall during staging did indeed affect the local conditions experienced by the population. We then found that individual variation in staging conditions experienced by birds (estimated by δ 13C and δ 15N) in 2011 carried over to affect their winter condition in Zambia, as estimated by scaled mass index and BUTY, both of which are likely to influence their overwinter survival and subsequent success on northwards migration. However, in a wetter-than-average year (2012), such individual variation in staging conditions was unrelated to over-winter condition in Zambia, suggesting that when conditions were good, all individuals had access to high quality habitats. Our results demonstrate that differences in local long-term staging conditions may be important for species demography [1]. Moreover, our findings emphasise the challenges in conserving multi-site migration routes and understanding how annual variation in local conditions determine the strength of carry-over effects.
The data support the predictions of our hypothesis; however, they are based on a comparison between 2 years and additional years of study are needed to confirm the generality of the pattern they suggest. It is possible that other differences between years, in addition to rainfall, may have contributed to our observed results. However, rainfall is the most plausible driver given that its connection to food supply is known to be an important environmental driver for the success of wintering migratory birds [18, 43].
Can good conditions on final wintering sites buffer the effects of poor staging conditions?
Despite having experienced poorer habitat conditions during staging, birds wintering in Zambia in 2011 had higher scaled mass indices than in 2012. One explanation may be that local rainfall conditions at the winter study site were wetter (+141 mm) in 2011 than 2012, and that this difference was enough to counteract drier-than-average staging conditions. Alternatively, poor staging conditions in 2011 might have resulted in differential survival [43]. If only the highest quality birds were able to complete the second stage of migration to final winter sites, this would cause scaled mass index to be higher across the winter population despite the presence of carry-over effects from poor staging conditions. Either way, if rainfall underlies these patterns then good rainfall conditions in Zambia appear to be sufficient to counteract drier-than-average staging conditions, at least in the short term [6]. Whether and how carry-over effects from staging during dry years might affect long-term indicators of success (such as spring migration departure dates and success, survival, and fitness) is an important question for determining the consequences of staging site conditions, and should be a focus of future research exploiting continual improvements in tracking technology.
Migratory staging and connectivity
Determining the location of long-term staging sites is essential for understanding how staging habitat conditions may contribute to population dynamics. In this study, we used a triple isotope (δ 15N, δ 13C, δ 2H) cluster analysis to assign birds to staging locations. While this method can assign migrants to large clusters in Africa, it lacks the specificity that can be obtained from geolocator studies. Future work that combines geolocator and isotope data will help to improve the applicability of isotopic assignment in Africa. For species with strong migratory connectivity, determining specific staging sites may be essential for determining population responses to conditions during staging; for example, extreme local staging conditions may have specific and dramatic consequences later in the annual cycle. By contrast, for species with weak migratory connectivity, those effects will be diffuse across the species' range [44]. Great reed warblers seem likely to experience diffuse effects, since breeding and wintering populations appear to be loosely connected [17]. The discovery of multiple long-term staging sites in many species makes studies of migratory connectivity more difficult, since the degree of connectivity with breeding areas could change over the non-breeding season as birds shift locations. Determining how staging locations are connected to both breeding and wintering grounds is important for predicting the consequences of poor rainfall or drought conditions.
Conclusions
This study supports the hypothesis that habitat conditions on distant long-term staging sites can influence individual condition at final wintering sites, and suggests that these effects are likely to be strongest when conditions are relatively poor. Longitudinal studies are needed to confirm whether the latter pattern is general. Our results suggest that when conditions on final wintering sites are good, individuals may be able to buffer the effects of poor staging conditions in the short term; however, differential survival due to poor staging conditions may also account for this pattern. Research determining variation in the strength of carry-over effects between years has been limited (but see [18, 45, 46]), and to our knowledge this study is the first to assess carry-over effects between recently-discovered long-term staging sites and final wintering sites. Long-term staging sites add complexity to our understanding of population dynamics for declining migratory species especially in the context of global change, in which habitat loss (e.g. owing to agriculture) and unpredictable events outside the reproductive period such as food shortages (e.g. owing to drought) are likely to increase. Our results provide further incentive for logistically challenging endeavours that aim to quantify year-round habitat use and disentangle interactions between multiple environmental factors and sites.
Abbreviations
CORT:

corticosterone
CORTf :

feather corticosterone
δ 15N:

nitrogen isotope
δ 13C:

carbon isotope
TRIG:

triglyceride
BUTY:

β-hydroxybutyrate
Declarations
Authors' contributions
MCS and CNS designed the study, MCS conducted fieldwork, MCS, GDF, SJ-E, JN, and EY conducted lab assays, and MCS wrote the manuscript with contributions from CNS, GDF, SJ-E, JN and EY. All authors read and approved the final manuscript.
Acknowledgements
We thank Kenty Mudenda, Collins Moya, Jason Boyce, and Jane Jönsson for assistance in the field and lab, Steve Van Wilgenburg and Keith Hobson for providing isotopic cluster analysis code and guidance during analysis, Ian and Emma Bruce-Miller for their generous hospitality and for supplying rainfall data in Zambia, Hamish Ross for access to part of the study area, Staffan Bensch for generous access to lab space, and the Zambia Wildlife Authority for permits. We gratefully acknowledge Tracy Marchant for allowing us to use her endocrine lab at the University of Saskatchewan.
Competing interests
The authors declare that they have no competing interests.
Availability of supporting data
The dataset supporting the conclusions of this article is included as Additional file 2.
Ethics
Our work complies with the international animal care guidelines of the Association for the Study of Animal Behaviour [70]. The capture and handling of animals were approved by and conducted under licence from ZAWA (Zambia Wildlife Authority).
Funding
MCS was funded by the Gates Cambridge Trust and the Natural Sciences and Engineering Research Council of Canada; CNS was supported by a Royal Society Dorothy Hodgkin Fellowship, a BBSRC David Phillips Fellowship (BB/J014109/1), and the DST-NRF Centre of Excellence at the FitzPatrick Institute. Isotope analyses at the LSMSF were funded by a NERC LSMSF Grant (EK206-16/12).
Open AccessThis article is distributed under the terms of the Creative Commons Attribution 4.0 International License (http://creativecommons.org/licenses/by/4.0/), which permits unrestricted use, distribution, and reproduction in any medium, provided you give appropriate credit to the original author(s) and the source, provide a link to the Creative Commons license, and indicate if changes were made. The Creative Commons Public Domain Dedication waiver (http://creativecommons.org/publicdomain/zero/1.0/) applies to the data made available in this article, unless otherwise stated.
Authors' Affiliations
(1)
Department of Zoology, University of Cambridge, Cambridge, UK
(2)
Department of Biology, University of Saskatchewan, Saskatoon, Canada
(3)
Swiss Ornithological Institute, Sempach, Switzerland
(4)
NERC Life Sciences Mass Spectrometry Facility, Scottish Universities Environmental Research Centre, East Kilbride, UK
(5)
Limnological Institute, University of Konstanz, Constance, Germany
(6)
DST-NRF Centre of Excellence at the FitzPatrick Institute, University of Cape Town, Cape Town, South Africa