Research article
Open Access
Modelling the impact of climate change on woody plant population dynamics in South African savanna
Received: 07 September 2004
Accepted: 17 December 2004
Published: 17 December 2004
Abstract
Background
In Southern Africa savannas climate change has been proposed to alter rainfall, the most important environmental driver for woody plants. Woody plants are a major component of savanna vegetation determining rangeland condition and biodiversity. In this study we use a spatially explicit, stochastic computer model to assess the impact of climate change on the population dynamics of Grewia flava, a common, fleshy-fruited shrub species in the southern Kalahari. Understanding the population dynamics of Grewia flava is a crucial task, because it is widely involved in the shrub/bush encroachment process, a major concern for rangeland management due to its adverse effect on livestock carrying capacity and biodiversity.
Results
For our study we consider four climate change scenarios that have been proposed for the southern Kalahari for the coming decades: (1) an increase in annual precipitation by 30–40%, (2) a decrease by 5–15%, (3) an increase in variation of extreme rainfall years by 10–20%, (4) and increase in temporal auto-correlation, i.e. increasing length and variation of periodic rainfall oscillations related to El Niño/La Niña phenomena. We evaluate the slope z of the time-shrub density relationship to quantify the population trend. For each climate change scenario we then compared the departure of z from typical stable population dynamics under current climatic conditions. Based on the simulation experiments we observed a positive population trend for scenario (1) and a negative trend for scenario (2). In terms of the projected rates of precipitation change for scenario (3) and (4) population dynamics were found to be relatively stable. However, for a larger increase in inter-annual variation or in temporal auto-correlation of rainfall population trends were negative, because favorable rainfall years had a limited positive impact due to the limited shrub carrying capacity.
Conclusions
We conclude that a possible increase in precipitation will strongly facilitate shrub encroachment threatening savanna rangeland conditions and regional biodiversity. Furthermore, the negative effects found for positive auto-correlated rainfall support current ecological theory stating that periodically fluctuating environments can reduce population viability because species suffer disproportionately from poor environmental conditions.
Keywords
Extreme RainfallShrub EncroachmentWoody Plant CoverRangeland ConditionFire Mortality
Background
In order to assess biodiversity response under climate change, Hannah et al. [1] recently emphasized the need to apply simulation models operating on a regional scale. Moreover, species respond differently to climate change because of different adaptations to their environment [2]. As a consequence, single-species models with a regional focus are essential to fully understand the manifold impact of global climate change. However, even though recent simulation tools have occasionally been applied for climate-sensitive animal species (e.g. [3–7]), spatial plant population models are extremely scarce (see review in [8]).
In this study we show how climate change may affect the long-term population dynamics of the raisin bush, Grewia flava DC, a common, fleshy-fruited, woody plant species of South African savannas. Understanding the population dynamics of Grewia flava is a crucial task, because it is widely involved in the shrub/bush encroachment process (e.g. [9, 10]). Shrub encroachment, i.e. the increase in woody plant cover, is a major concern for conservation and savanna rangeland management, due to its adverse effect on livestock carrying capacity (e.g. [11–13]) and biodiversity (e.g. [14]). In the context of global climate change, increase in woody plant cover has primarily been investigated in association with elevated CO2 (e.g. [15, 16]). For example, Bond et al. [16] suggested that higher rates of atmospheric CO2 will have a positive effect on the post-fire regrowth of woody plants resulting in an increase in woody plant cover. Unfortunately, appropriate data verifying this hypothesis are not yet available.
Here, we present a different approach. We used Spatial Grewia Model (SGM) (see [17, 18]), a stochastic, spatially-explicit computer model to evaluate the impact of precipitation pattern change on Grewia flava population dynamics. In semi-arid and arid savannas, rain is the most important environmental parameter governing crucial life history processes in woody plants [19]. Hence, climate change related shifts in precipitation pattern will potentially have severe consequences for woody plant population dynamics. As a regional focus for our study we considered the southern Kalahari, the near centre of Grewia flava's distribution. In this area, recent climatological studies proposed either a decrease in mean precipitation of 5–15% by the year 2050 [20], or an increase by up to 30–40% (e.g. [21]. Further studies suggest an increase in the frequency and variability of extreme rainfall events (e.g. [22]), as well as alternating phases with low and high rainfall, typical for Southern Africa [23]. The large divergence between the various precipitation scenarios raises the question how woody plants would react along this spectrum. Therefore, we have set up a systematic sensitivity study to explore Grewia flava population dynamics along precipitation gradients, so as to detect possible thresholds in the response of this species to continuous variations of a crucial environmental driver.
Results
By implementing relevant ecological processes of
Grewia flava
population dynamics into the
SGM
(see Figure
1
and model description in method section), we developed a standard scenario, based on annual rainfall for the period 1940 – 2000. This standard scenario led to stable population dynamics (see Figure
2
and method section). To compare population trends between four climate change scenarios we then used simple linear regression to calculate the
z
-value, i.e. the slope of the year – shrub density relationship.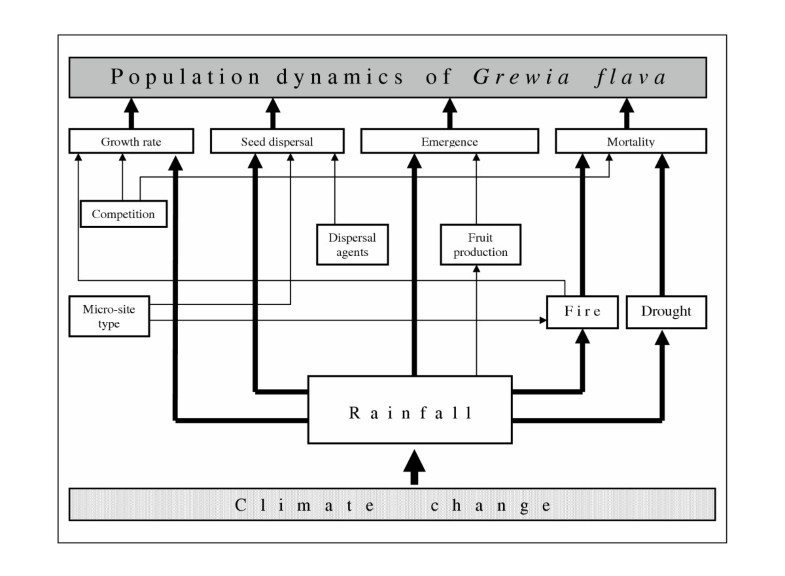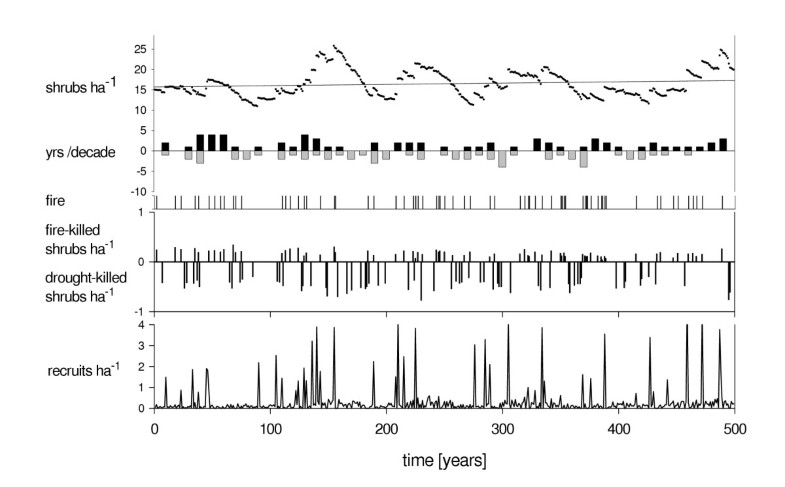 Discussion
Based on our simulation results, we have demonstrated that climate change predictions of precipitation pattern for the southern Kalahari may significantly affect Grewia flava population dynamics. This enables us to estimate the possible consequences for land use management and biodiversity due to the keystone function of Grewia flava in the shrub/bush encroachment process.
What are the implications of climate change related population trends for regional biodiversity and rangeland condition?
Parameter sensitivity and predictive power of SGM
In order to assess the predictive power of SGM it is important to discuss the inference of actual precipitation amounts on probability values. Threshold values for extreme rainfall years are based on expert knowledge and may vary depending on the plant species considered. Moreover, percentage changes in extreme rainfall years, as applied in our model, are not necessarily equivalent to percentages changes in mean annual rainfall. For example, an increase in 'high' rainfall years by 10% represents an increase in mean annual rainfall of approximately 10%, depending on actual precipitation amounts in each 'high' rainfall year. Thus, it is important to derive principal population trends from the SGM model results rather than absolute predictions. Another issue regards the temporal dimension: long-term SGM simulation periods deviate from short-term predictions of climate change. However, population trends applied for only a few decades may yield biased results due to the cyclicity of Grewia population dynamics (see [17]). Finally, we stress that potential deviations in the annual probability of drought mortality may modify the output of the model. For example, a sensitivity analysis showed that a 100% increase in drought mortality for adult shrubs decreased the model output by 10% (see [18]).
Conclusions
In this study we have shown that climate change may have severe and sometimes unexpected implications at a regional species level. A woody plant like Grewia flava is relatively long-lived, fire and drought-resistant. Intuitively, this would suggest a low climate change impact on Grewia flava population dynamics. However, we found that despite Grewia flava's capability to survive in a harsh environment, it may be strongly affected when rainfall decreases as predicted, or increases in periodical fluctuations. This may also include possible range shifts in regional distribution which have not been studied here. Based on the model and the climate change scenarios analysed, it would be inappropiate to forecasts changes in the geographical distribution of Grewia flava, because SGM parameters have been estimated and validated for populations in the Kimberley region of the southern Kalahari. Moreover, current geographical distribution suggests that buffer mechanisms may facilitate survival in more arid parts of the southern Kalahari (e.g. through higher variability in emergence as an adaption towards lower frequency of high rainfall years).
Decrease in rainfall may reduce the severity of Grewia flava encroachment in the southern Kalahari. However, increase in rainfall will likely enhance this process. A shift from typical open grassland with solitary trees towards wide spread, homogeneous Grewia flava thickets implies negative cascade effects for other species, resulting in the loss of biodiversity [24]. As a further consequence, local rangelands are likely to be reduced in their carrying capacity of domestic livestock with negative effects for economic sustainability. Moreover, a shift in precipitation pattern may have further consequences, such as the alteration of fire regimes, grass biomass production or woody plant carbon uptake.
Methods
A detailed description of the simulation model SGM and previous results have been presented elsewhere (see [17, 18]). SGM has been previously validated with empirical data and simulates population dynamics of Grewia flava under specific land use, fire and rain scenarios in southern Kalahari semiarid savannas. However, to facilitate a better understanding of the current results we will briefly describe the study species and relevant aspects of the simulation model.
Declarations
Acknowledgements
This work was funded by the German Ministry of Education and Research (BMBF) in the framework of BIOTA South Africa (01LC0024). I would like to thank E. Bell and N. Hanan for useful comments on an earlier version of this manuscript.
Authors' Affiliations
(1)
Plant Ecology and Nature Conservation, Institute of Biochemistry and Biology, University of Potsdam, Potsdam, Germany
(2)
Plant Ecology and Nature Conservation, Institute of Biochemistry and Biology, University of Potsdam, Potsdam, Germany
Copyright
© Tews and Jeltsch; licensee BioMed Central Ltd. 2004
This article is published under license to BioMed Central Ltd. This is an Open Access article distributed under the terms of the Creative Commons Attribution License (http://creativecommons.org/licenses/by/2.0), which permits unrestricted use, distribution, and reproduction in any medium, provided the original work is properly cited.