Research Article
Open Access
Environmental drivers of Ixodes ricinus abundance in forest fragments of rural European landscapes
BMC Ecology
BMC series – open, inclusive and trusted
2017
17:31
Received: 4 April 2017
Accepted: 23 August 2017
Published: 6 September 2017
Abstract
Background
The castor bean tick (Ixodes ricinus) transmits infectious diseases such as Lyme borreliosis, which constitutes an important ecosystem disservice. Despite many local studies, a comprehensive understanding of the key drivers of tick abundance at the continental scale is still lacking. We analyze a large set of environmental factors as potential drivers of I. ricinus abundance. Our multi-scale study was carried out in deciduous forest fragments dispersed within two contrasting rural landscapes of eight regions, along a macroclimatic gradient stretching from southern France to central Sweden and Estonia. We surveyed the abundance of I. ricinus, plant community composition, forest structure and soil properties and compiled data on landscape structure, macroclimate and habitat properties. We used linear mixed models to analyze patterns and derived the relative importance of the significant drivers.
Results
Many drivers had, on their own, either a moderate or small explanatory value for the abundance of I. ricinus, but combined they explained a substantial part of variation. This emphasizes the complex ecology of I. ricinus and the relevance of environmental factors for tick abundance. Macroclimate only explained a small fraction of variation, while properties of macro- and microhabitat, which buffer macroclimate, had a considerable impact on tick abundance. The amount of forest and the composition of the surrounding rural landscape were additionally important drivers of tick abundance. Functional (dispersules) and structural (density of tree and shrub layers) properties of the habitat patch played an important role. Various diversity metrics had only a small relative importance. Ontogenetic tick stages showed pronounced differences in their response. The abundance of nymphs and adults is explained by the preceding stage with a positive relationship, indicating a cumulative effect of drivers.
Conclusions
Our findings suggest that the ecosystem disservices of tick-borne diseases, via the abundance of ticks, strongly depends on habitat properties and thus on how humans manage ecosystems from the scale of the microhabitat to the landscape. This study stresses the need to further evaluate the interaction between climate change and ecosystem management on I. ricinus abundance.
Keywords
Climate gradientEcological nicheEcosystem disserviceFunctional ecologyHabitat compositionLandscape compositionLand-use changesmallFORESTTick distribution
Background
The castor bean tick (Ixodes ricinus) acts as vector for several infectious diseases (Lyme borreliosis, Tick-borne Encephalitis, Babesiosis etc.) that pose a risk to live stock and human health [1, 2]. Ultimately, the prevalence of tick-borne diseases (TBDs) constitutes an important ecosystem disservice [3, 4], which plays a major role for public health in Europe [5]. Shifts in the distribution of I. ricinus and the pathogens it transmits have been observed in the wake of climate and land-use change [6, 7]. In response to these changing conditions a detailed understanding of I. ricinus abundance patterns is necessary to predict and reduce exposure risk to TBDs and adjoining monetary expenses for humans.
Ixodes ricinus
has a life-cycle consisting of three mobile ontogenetic stages (larvae, nymphs and adults), into which it develops immediately after a successful blood meal from vertebrate hosts [
8
]. Adult ticks are male or female and if they encounter each other on a suitable host and the female tick acquires a last blood meal and falls of the host in a random location, it may deposit eggs from which new larvae can hatch. The ecology of
I. ricinus
is complex with each ontogenetic stage having its own multitude of driving factors (Fig.
1
) [
9
]. Many studies shed light on these factors [
10
], but they either consider a narrow spatial extent [
11
,
12
] or encompass a small subset of known tick abundance drivers [
13
,
14
]. While these earlier studies help to provide a general overview of the realized niche of
I. ricinus
, there is still a lack of large-scale studies, where the majority of environmental factors potentially driving tick abundance are evaluated simultaneously [
9
]. Here, we identify a set of relevant drivers of
I. ricinus
abundance to shed light on its realized niche. We surveyed deciduous forest fragments (hereafter 'habitat patch') of different sizes and age in rural landscapes, which are very common in Central Europe [
15
]. The extensive spatial and climatic gradient ranging from southern France to Estonia and central Sweden covers a extensive part of the
I. ricinus
distribution range.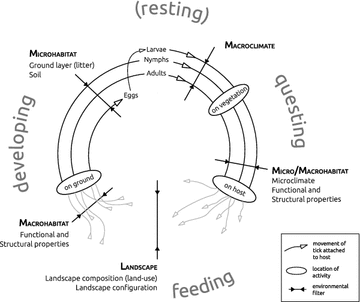 Macroclimate is an important determinant of the I. ricinus distribution [16]. Ticks are not able to persist below or above certain climatic thresholds of temperature and relative humidity, because freezing or desiccation threatens their survival [17]. Within the suitable range of these macroclimatic factors, temperature sums (the accumulated temperature over a given period of time) drive tick development rates [17] and the potential abundance of questing ticks [6]. However, the forest canopy buffers macroclimatic conditions considerably [18], which means that effects of macroclimate and tree/shrub abundance are confounded. Because of that and since ticks are relatively immobile horizontally [19, 20], the habitat specific vertical profile of microclimate can be assumed to drive tick abundance [21].
Animals such as ungulates, birds and small mammals are amongst the most relevant tick-hosts [10]. Landscape composition and configuration [22–24] as well as biotic interactions [25, 26] are important determinants of tick-host communities at regional and local scales [27], albeit exact effects on tick abundance remain unclear (Fig. 1). However, cascading effects of landscape factors, as proxy for prevailing tick-host communities, have previously been shown to be relevant for I. ricinus abundance [28–30]. Not only landscape properties, but also the properties of the habitat itself determine local visitation rates by tick-hosts (Fig. 1). Morphological plant traits, as well as the structural complexity of a habitat patch determine the availability of shelter for tick-hosts [24, 27] whereas plant functional traits determine the availability of food for many tick-hosts [22]. However, the properties of a habitat patch may be confounded with spatial or temporal continuity of the patch. Ancient forests, for instance, often have higher structural [31] and functional diversity [32, 33]. Similarly, larger patches have a higher chance of including distinct sub-stands resulting in more diverse patch properties. Hence, both older as well as larger patches may provide a larger amount of distinct niches and food resources for tick-hosts. This potentially increases the abundance and modifies the community composition of tick-hosts, presumably with cascading effects on tick abundance [14].
Tick activity is determined by the herb layer as questing habitat, in terms of its cover [11, 12] and vertical structure [12, 34, 35] and by the abundance of the leaf-litter layer as moulting or resting habitat [36] (Fig. 1). Therefore, biotic conditions of the habitat should be considered as limiting drivers, influencing the questing and survival success of I. ricinus considerably. Suitable conditions may lead to an increase in feeding opportunities for ticks, thereby raising the likelihood of life-cycle completion and thus tick survival and abundance. The link between the different ontogenetic stages and their abundance has so far not been sufficiently addressed. Younger tick stages are more prone to desiccation than older stages [36]. They utilize different strata of the microhabitat, which is partly an adaption to the different microclimatic requirements of the different ontogenetic stages. This differentiated utilization of the microhabitat results in access to only a stage-specific fraction of the overall host community [34]. Consequently, a distinct influence of environmental factors and tick-hosts on the abundance of the different ontogenetic stages can be expected. Ultimately, these aspects can be interpreted as ontogenetic niche differentiation for I. ricinus [37]. However, it is not clear which fraction of a given ontogenetic stage has access to and hence depends on local or regional hosts. Albeit younger stages generally depend more on local hosts and older stages more on regional hosts [8], there may be local habitat properties, as outlined above, which attract the different stages' hosts differently. This may result in an unexpected local accumulation or depletion of a given ontogenetic stage. In any case, cascading effects of younger on older ontogenetic stages, mediated by common drivers, may exist. By testing the influence of the previous stage, we can test the degree to which drivers of the previous ontogenetic stage (explaining its abundance) influence the stage in focus, implying theoretical cascading effects.
As an overarching objective, we quantify the relative explanatory value of each of the significant drivers of
I. ricinus
abundance, when all the significant drivers are simultaneously retained in one model per ontogenetic stage. With the help of a multi-factorial model we answer these following research questions:
1.

Do macroclimatic metrics explain tick abundance when habitat characteristics that buffer macroclimate are accounted for?

2.

Does (a) landscape configuration, in terms of fragmentation, lead to higher tick abundances in rural landscapes and does (b) landscape composition, in terms of proportion of more intensive land-use types of the non-forest matrix, indirectly drive I. ricinus abundance?

3.

Do (a) structural and functional properties of the habitat patch affect tick abundance and do (b) more diverse conditions in these properties or higher temporal continuity of the patch lead to higher tick abundances?

4.

Are (a) the different ontogenetic stages driven to a varying degree by different drivers and (b) how important are common drivers, in terms of abundance of the previous ontogenetic stage for I. ricinus?
Methods
Study locations
This study was carried out within the framework of the smallFOREST project [
38
]. Study sites were located in eight regions across the temperate zone of Europe (southern and northern France, Belgium, western and eastern Germany, southern and central Sweden and Estonia, Fig.
2
). Two landscape windows each of 5 km × 5 km extent, but with contrasting landscape configuration and composition due to differences in agricultural disturbance intensities, were selected in each of the eight regions. These two landscape windows were selected to be representative of the regional gradient in land-use intensity. In each of these 16 windows a total of 14–16 forest patches (depending on local availability) of different size and age were selected as focal forest patches. Forest patches had to be dominated by deciduous tree species covering more than 60% of the tree layer to be considered for sampling. Our selection resulted in a total of 250 forest patches (Additional file
1
). Sampling was confined to a random subset of predetermined plots, as described in [
38
]. The plots were distributed regularly within each patch, their number depending largely on patch size (one to 128 plots per patch, on average 5.0). The study design is illustrated in more detail in Fig. 1 of [
38
].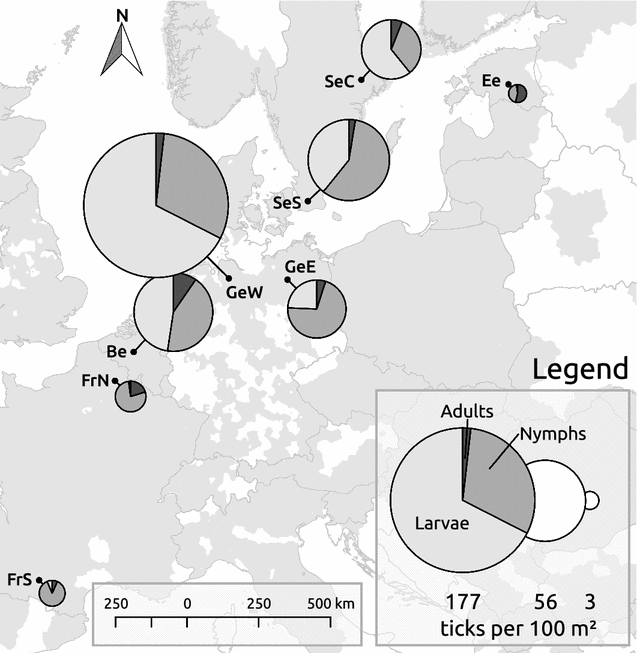 Sampling of tick and forest stand characteristics was carried out by the same team in all regions whereas soil and vegetation surveys were done by site-specific expert groups.
Ecological surveys
The major setup of our surveys is designed to capture the key drivers as suggested by [9]. We modified it to consider specific properties of rural landscapes and forest as habitat type. We looked at the driver groups Macroclimate, Landscape and Habitat quality and distinguished, in contrast to [9], between macrohabitat (overstory) and microhabitat (understory vegetation, leaf-litter layer and soil) and considered a potential link between ontogenetic stages (Additional file 2). Specific indicator traits within each driver group were selected to describe different aspects and to be ecologically meaningful for as many as possible functional guilds related to ticks (such as ticks themselves, potential hosts, plants and leaf litter as habitat).
Statistical analyses
All statistical work was carried out in R version 3.3.1 [48]. An explanatory factor analysis (EFA) was carried out based on maximum likelihood to derive factors of correlated variables (Additional files 4, 5) within variable groups with the 'psych' package [49]. These correlation factors are assumed to represent the combined (and more general) influence of a set of correlating variables, which would not be significant separately because they might be too specific.
We built three linear mixed models (LMMs) to explore the effect of all environmental variables on the abundance of the three ontogenetic stages (larvae, nymphs and adults) using the 'lme4' package [50]. We included the preceding stage's abundance to consider and compare indirect effects of the drivers of the previous stage relative to the other environmental drivers. Both 'region' and 'window' were implemented as random factor (two windows nested in each of eight regions =16 levels) to account for the nested structure of our sampling design. As several of the tested variables (such as latitude and longitude or nearest neighbor distance and the proximity index) could explain spatial patterns which would be detected as spatial autocorrelation, given they would be meaningful, while accounting for other significant variables, we did not test for spatial autocorrelation in advance of model-building.
Our standardized, semi-automatic model-building/variable selection procedure is described in Additional files 6 and 7. To capture optimum (i.e. hump-shaped) or pessimum (i.e. u-shaped) conditions in drivers, we also tested second-order polynomials of the variables. The so-derived models were eventually fit using restricted maximum likelihood (REML). The 'lmerTest' package [51] was used to determine type-III ANOVA tables with 'Wald F-Test with Satterthwaite degrees of freedom' for fixed effects. Response profiles based on partial residuals were determined with the 'visreg' package [52] and plotted with the 'ggplot2' package [53]. We derived the relative importance as proportion of each significant driver of the overall variation, based on partial eta2 values (Additional file 8, [54]). Due to the large number of known effects on tick abundance, it can be expected that several of the significant drivers are small or moderate in their individual importance. Detailed R-code can be found in [55].
Results
Tick survey
We collected a total of 24,479 ticks in all stages, of which 12,396 (50.6%) were larvae, 10,992 (44.9%) nymphs and 499 (4.5%) adults. Among adults, 46% were females and 54% were males. Average abundance of ticks per 100 m2 differed noticeably between regions (Fig. 2). Western Germany, Belgium and southern Sweden were regions with the highest and southern France and Estonia with the lowest average larval abundance (Fig. 2; Additional file 2). In all regions except Belgium, western Germany and central Sweden larvae made up less than 50% of the total number of collected ticks. The proportion of nymphs varied between 31% (western Germany) and 87% (southern France) of all ticks collected per region. Adults usually constituted less than 10% per region, except in Estonia and northern France, where they made up 54 and 21%, respectively.
During the tick surveys, the average air temperature ranged from 11.6 to 32.7 °C (median = 19.3 °C); soil temperature at 5 cm depth ranged from 7.6 to 18.7 °C (median = 13.8 °C); relative humidity at 5 cm height ranged from 31.7 to 99.9% (median = 74.2%) and from 25.8 to 99.7% (median = 63.8%) at 130 cm height.
Model results
Across all ontogenetic stages, combined drivers of M
acroclimate
, L
andscape
, H
abitat
and O
ntogeny
had, on average, a relative importance of 4.2, 10.0, 44.7 and 10.1% respectively. However, the ontogenetic stages showed pronounced differences in all driver groups (Fig.
3
). The overall model can be found in Additional file
9
.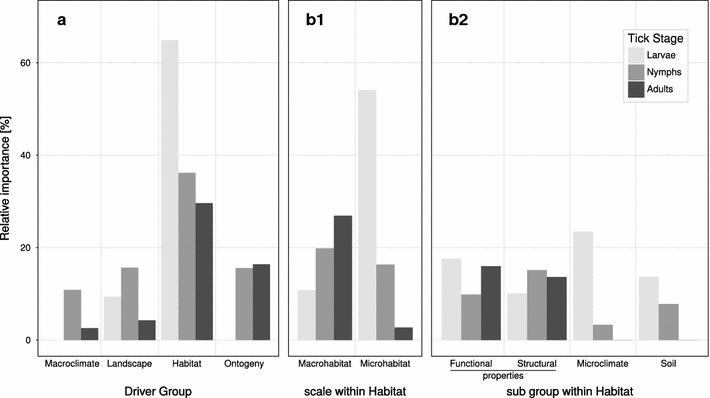 Larvae
Macroclimate did not have an effect on the abundance of larvae (Fig. 3).
The combined contribution of L
andscape
variables on larval abundance was only moderate (9.2% of the total variation) (Fig.
3
). The number of forest patches within a 500 m buffer around focal patches (2.5%) and patches size (2.1%) were the most important drivers of this group (Fig.
4
), the latter being positively correlated with larval abundance. Moreover, we found a small negative relationship of larval abundance with the proportion of pastures at landscape scale and a small positive relationship with agricultural cover at local scales (Additional file
10
B).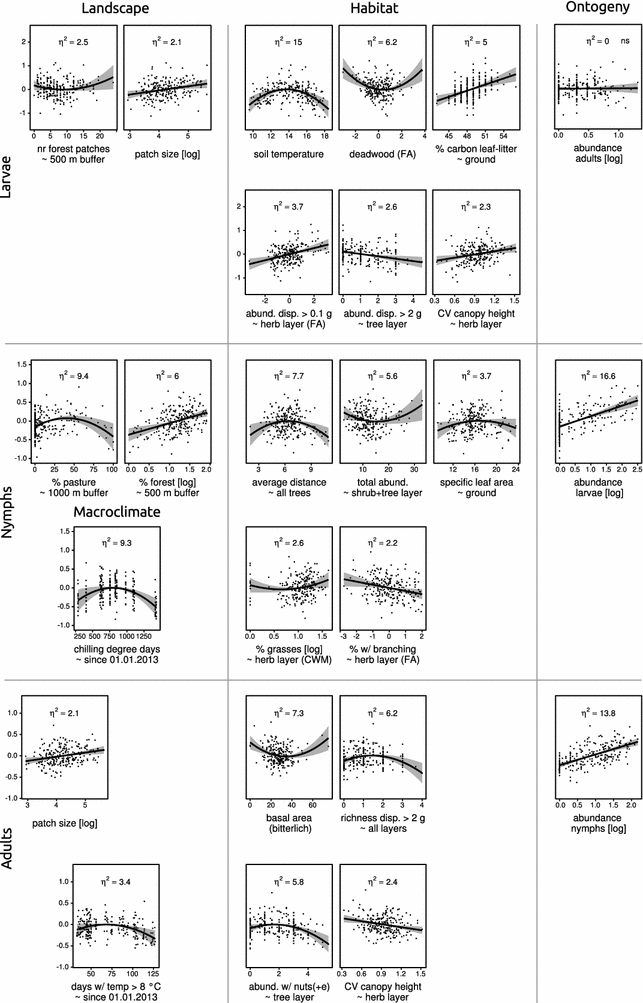 Drivers of Habitat had a large effect on larval abundance, explaining together 64.8% of the total variation. Drivers associated to the Microhabitat made up 53.6% of the variation whereas Macrohabitat accounted for 10.7%. Microclimatic variables had the greatest contribution (22.6%), with soil temperature explaining 15%, and relative air humidity explaining 8% of the total variation. In both cases we found a unimodal, hump-shaped relationship (Fig. 4; Additional file 10D). Functional properties of the habitat explained 17.8% with several drivers related to the abundance of dispersules showing a positive effect on larval abundance. Only heavy dispersules showed a negative relationship (Additional file 10C). The soil (13.6%) and structural properties of the forest stand (10.0%) followed in importance. For example, there was a positive effect of the proportion of carbon in leaf-litter (Fig. 4), as well as of tree species richness on larval abundance (Additional file 10C). Structural properties as drivers were mainly associated with the understory layers (microhabitat). For instance, deadwood (6.2%) and the coefficient of variation of the potential height of plants in the herb layer (2.3%) partially contributed to larval abundance.
The abundance of adult ticks (Ontogeny) found in the patches, which was considered to be the previous ontogenetic stage for larvae, had no significant effect (Fig. 4).
Nymphs
The combined effect of Macroclimate had a low influence on the abundance of nymphs, with a relative contribution of 9.3% of the total variation (Fig. 1). The number of chilling degree days had a unimodal, hump-shaped effect on the abundance of nymphs (Fig. 4).
The driver group Landscape accounted for 15.5% of the total variation in nymphal abundance. The proportion of pasture within a 1000 m buffer had the largest effect within this group (9.4%) making it, together with the chilling degree days, the second most important single driver of the overall model. More nymphs were generally found in landscapes with a higher percentage of forest cover (Fig. 4).
Drivers of Habitat determined nymphal abundance to a relatively large degree (36.6%, Fig. 3). For nymphs, drivers of the Microhabitat added up to 15.6% and Macrohabitat accounted for 20.6%. Structural properties explained 15.6% of the total variation and this was mostly due to the average distance between trees (7.7%) and the total abundance of trees and shrubs (5.6%, Fig. 4). Functional properties were more important (9.9%) than soil conditions (8.4%) and functional properties were mostly found in the microhabitat of ticks. For instance, if berries were present in the tree-layer, their abundance correlated positively with nymphs (Additional file 11C). Microclimate explained a minor fraction (2.8%) of the total variation in nymphal abundance.
The abundance of larvae (Ontogeny) was the most decisive driver (16.6%) of nymphal abundance, with a strong positive effect (Fig. 4).
Adults
Variables of Macroclimate together explained only 3.4% of the total variation in adult abundance (Fig. 3), with number of days above 8 °C since the 1st of January being the only significant driver, with a hump-shaped relationship (Fig. 4).
Overall, the combined contribution of Landscape variables was minor (5.3%). The patch size was the most important driver (2.1%) and had a positive effect. Similar to the results for nymphs, an increase in overstory cover was also associated with higher adult abundance, although this effect was not strong (Additional file 12C). Across all patches, fewer ticks were found in landscapes with higher percentage of agricultural land-use.
Habitat was the most important group of drivers for adult ticks (combined 32.6% of the total variation, Fig. 3). Drivers of the Microhabitat made up 2.4% and Macrohabitat accounted for 27.2% of the total variation in the abundance of adults. Functional properties (16.4%) such as the richness of dispersules heavier than 2 g (6.2%) and the abundance of plants with nuts in the tree layer (5.8%), both with a hump-shaped relationship, were shown to be important drivers of adult abundance. Stand structural properties, explaining 13.1%, were slightly less important than functional properties. Basal area (7.3%) was the second most important single driver, although this relationship was largely driven by a few, extreme values (Fig. 4). The abundance of species producing nuts in the shrub layer, potentially providing food for tick-hosts, was positively correlated with adult tick abundance. Microclimatic variables and soil conditions played no role for adult abundance.
The abundance of nymphs (Ontogeny) was the most important single driver (13.8%) determining the abundance of adults, again with a positive relationship (Fig. 4).
Discussion
We showed that numerous single drivers only had a moderate or small (<5% of the total variation) effect on abundance within each ontogenetic stage. This reflects the complex ecology of I. ricinus. Only some drivers, which exceed 5% of the total variation, are of major importance. However, combining single drivers into related groups, our results demonstrate that foremost drivers of the Habitat group and hereafter the Landscape group explained most of the total variation in abundance across all stages. Macroclimate on local scale explained only a minor part of the total variation for nymphs and adults, and no variation of the abundance of larvae.
Limitations of our study
We are aware that our sampling of ticks is biased as it does not consider a region-specific life cycle, which might have an unimodal but also bimodal distribution of tick abundance throughout the year in different regions [13, 17, 56]. Such a snapshot does not consider inter-annual changes in the role of the environmental drivers, which may well be important. By collecting ticks only once in each patch, smaller patches may not be as well represented as larger patches, because a higher probability of uncontrolled-for variation sources can influence the measurement here. However, by collecting ticks in a window within 1 week, we ensured that tick numbers were comparable within each region, irrespective of their current mode of activity or macroclimatic events. This allowed us to test for the relevance of drivers within each region. In addition, the random effect in our LMMs statistically accounts for variation accountable to regions and makes the other environmental predictors comparable across regions. Nevertheless, studying population dynamics, with a higher sampling effort over time in each region will certainly reveal additional, region specific trends. The trends we revealed are valid for the overall studied (European) gradient representative of lowland agricultural landscapes.
Finally, various herb layer characteristics may influence the sampling success of the cloth dragging method, possibly obscuring the true abundance of ticks, particularly larvae [39]. For instance, dense vegetation may limit the detection of larvae and nymphs questing close to the ground. We did, however, not find a negative effect of general vegetation density, but of the proportion of herbaceous plants with ascending or prostrating habitus. These plants form a denser layer of vegetation, sometimes even with thorns, which is basically impenetrable with the cloth. Although we deliberately avoided such sites, even small differences in the abundance of such plant species could potentially affect the sampling effectiveness. Nevertheless, there is no reason to assume that the sampling success of the cloth dragging method was systematically correlated with most of the selected driver variables, suggesting that our results are rather robust with respect to the sampling procedure.
Conclusions
Abundance of I. ricinus in forest fragments of agricultural landscapes is shaped by a rather large number of drivers and this emphasizes the complex ecology of ticks. Even though most drivers had a modest to small explanatory power, their combined effect was substantial. We showed that landscape and particularly habitat quality play an important role, outweighing the effects of macroclimate by far to explain local variation in tick abundance.
These patterns may, however, be context specific. The studied forest patches comprise one relatively similar type of tick habitat. A wider range in various environmental gradients and in habitat types beyond forest, where ticks are also present (grasslands, hedgerows, wetlands, etc.) is required to reliably quantify the niche of I. ricinus.
Further investigations on the influence of forest and landscape management on ticks are urgently required to disentangle the influence of anthropocentric management decisions impacting the abundance of I. ricinus, and hence the ecosystem disservice of TBD prevalence. Such management decisions affect a large variety of the tick drivers we identified here, including the amount of suitable forest and ecotone habitat, the cover and composition of the herb layer, and hence the habitat and resource availability for tick-hosts.
Certainly, habitat and landscape management effects should be separated from effects of climate change, which are largely out of reach of direct human ecosystem management. However, climate only has a relatively small explanatory value on local scales, when accounting for the effect of habitat properties. The local scale is what really matters for the contact between ticks and humans and effects of climate change may thus be less important than ecosystem management for TBD risks in humans. We suggest that drivers that can be, and were historically, manipulated by humans have a lot larger relative importance than assumed before.
Declarations
Authors' contributions
SE, together with field assistants, collected ticks and carried out forest mensuration in all regions. SE managed the field data, acquired and managed digital data (plant traits, macroclimate data), carried out all data analyses and wrote the draft manuscript. MSL has developed the ideas for and supervised this study. JLi supported statistical analyses. KH coordinated collection of soil samples, PDS carried out the analyses of these samples. AV and EGM managed the geospatial database, from which landscape metrics were derived. GD and KV elaborated and coordinated the smallFOREST project, within which this study was embedded. Besides these activities, all co-authors were members of smallFOREST, together designed the overall smallFOREST sampling scheme, delivered datasets (vegetation and soil) and commented on the manuscript. All authors read and approved the final manuscript.
Acknowledgements
This study has been supported by the TRY initiative on plant traits (http://www.try-db.org). The TRY initiative and database is hosted, developed and maintained by J. Kattge and G. Bönisch (Max Planck Institute for Biogeochemistry, Jena, Germany). TRY is currently supported by DIVERSITAS/Future Earth and the German Center for Integrative Biodiversity Research (iDiv) Halle-Jena-Leipzig. We acknowledge Katja Leischke, Peter Fräßdorf and Iris Gutierrez for participating in field-work and Bernhard Thiel for proofreading the manuscript.
Competing interests
The authors declare that they have no competing interests.
Availability of data and materials
The dataset utilized for this study is part of the smallFOREST database, which is currently still under analysis. Data will be publicly available on the smallFOREST project website (https://www.u-picardie.fr/smallforest/uk/), as soon as all the envisaged studies within this project are completed.
Software and code utilized for analyzing the data can be found in [55].
Consent for publication
Not applicable.
Ethics approval and consent to participate
Not applicable.
Funding
This research was funded by the ERA-Net BiodivERsA project smallFOREST, via the national funders ANR (France), FORMAS (Sweden), ETAG (Estonia), DFG (Germany) and BELSPO (Belgium) as part of the 2011 BiodivERsA call for research proposals. This study has been supported financially by the University Freiburg International Graduate Academy (IGA) and the Archimedes DoRa programme. The article processing charge was funded by the German Research Foundation (DFG) and the ALU Freiburg in the funding programme Open Access Publishing. None of the funders played a role in the design of the study, data collection, analyses, interpretation of the results or writing of the manuscript.
Publisher's Note
Springer Nature remains neutral with regard to jurisdictional claims in published maps and institutional affiliations.
Open AccessThis article is distributed under the terms of the Creative Commons Attribution 4.0 International License (http://creativecommons.org/licenses/by/4.0/), which permits unrestricted use, distribution, and reproduction in any medium, provided you give appropriate credit to the original author(s) and the source, provide a link to the Creative Commons license, and indicate if changes were made. The Creative Commons Public Domain Dedication waiver (http://creativecommons.org/publicdomain/zero/1.0/) applies to the data made available in this article, unless otherwise stated.
Authors' Affiliations
(1)
Geobotany, Faculty of Biology, University of Freiburg, Freiburg, Germany
(2)
Institute of Ecology and Earth Sciences, University of Tartu, Tartu, Estonia
(3)
Black Forest National Park, Bad Peterstal-Griesbach, Germany
(4)
Natural Resources & Environmental Effects, IVL Swedish Environmental Research Institute, Stockholm, Sweden
(5)
Southern Swedish Forest Research Centre, Swedish University of Agricultural Sciences, Alnarp, Sweden
(6)
Landscape Ecology, Department of Geography and Quaternary Geology, Stockholm University, Stockholm, Sweden
(7)
DYNAFOR, Université de Toulouse, INRA, INPT, Castanet, France
(8)
UR "Ecologie et Dynamique des Systèmes Anthropisés" (EDYSAN, FRE 3498 CNRS-UPJV), Jules Verne University of Picardie, Amiens Cedex 1, France
(9)
Forest & Nature Lab, Ghent University, Melle-Gontrode, Belgium
(10)
Department of Plant Production, Ghent University, Melle, Belgium
(11)
Faculty of Biology/Chemistry (FB 02), Institute of Ecology, Vegetation Ecology and Conservation Biology, University of Bremen, Bremen, Germany
(12)
Institute of Land Use Systems, Leibniz-ZALF (e.V.), Müncheberg, Germany
(13)
UF PRiMAX, Clinical Pharmacology Department, CHU Amiens-Picardie, Amiens Cedex 1, France