Research article
Open Access
Pesticide seed dressings can affect the activity of various soil organisms and reduce decomposition of plant material
BMC Ecology
BMC series – open, inclusive and trusted
2016
16:37
Received: 30 December 2015
Accepted: 3 August 2016
Published: 17 August 2016
Abstract
Background
Seed dressing with pesticides is widely used to protect crop seeds from pest insects and fungal diseases. While there is mounting evidence that especially neonicotinoid seed dressings detrimentally affect insect pollinators, surprisingly little is known on potential side effects on soil biota. We hypothesized that soil organisms would be particularly susceptible to pesticide seed dressings as they get in direct contact with these chemicals. Using microcosms with field soil we investigated, whether seeds treated either with neonicotinoid insecticides or fungicides influence the activity and interaction of earthworms, collembola, protozoa and microorganisms. The full-factorial design consisted of the factor Seed dressing (control vs. insecticide vs. fungicide), Earthworm (no earthworms vs. addition Lumbricus terrestris L.) and collembola (no collembola vs. addition Sinella curviseta Brook). We used commercially available wheat seed material (Triticum aesticum L. cf. Lukullus) at a recommended seeding density of 367 m−2.
Results
Seed dressings (particularly fungicides) increased collembola surface activity, increased the number of protozoa and reduced plant decomposition rate but did not affect earthworm activity. Seed dressings had no influence on wheat growth. Earthworms interactively affected the influence of seed dressings on collembola activity, whereas collembola increased earthworm surface activity but reduced soil basal respiration. Earthworms also decreased wheat growth, reduced soil basal respiration and microbial biomass but increased soil water content and electrical conductivity.
Conclusions
The reported non-target effects of seed dressings and their interactions with soil organisms are remarkable because they were observed after a one-time application of only 18 pesticide treated seeds per experimental pot. Because of the increasing use of seed dressing in agriculture and the fundamental role of soil organisms in agroecosystems these ecological interactions should receive more attention.
Keywords
Agricultural intensificationAgroecosystemsBelowgroundDifenoconazoleEcotoxicologyFludioxonilImidaclopridPesticidesProthioconazoleSoil ecology
Background
Seed dressing in agriculture involves the treatment of various crop seeds with fungicides and/or insecticides in order to combat soil borne fungal diseases and above- and belowground insects [1]. Neonicotinoid insecticides and fungicides used for seed dressing are increasingly applied for many agricultural crops for about 15 years [2, 3]. Recently, especially systemic neonicotinoid pesticides used for seed dressing have been shown to affect the fitness and mortality of a variety of non-target invertebrates [4, 5]. Especially their connection to increased bee mortality resulted in a moratorium on three neonicotinoids as seed dressing within the European Union [6]. While our knowledge on non-target effects of pesticide seed dressings on insect pollinators is mounting [5, 7], we still know very little on potential impacts on soil biota. This is surprising since the bulk of the active ingredients from seed dressings have been shown to enter the soil and thus directly impacting soil biota [2].
Of the highly diverse soil biota, earthworms are vitally important members especially in agricultural soils where they can constitute up to 80 % of total soil animal biomass [8]. They play critical roles in the development and maintenance of soil physical, chemical and biological properties [9]. Their activities improve soil structure by increasing porosity and aeration, facilitating the formation of aggregates and reducing compaction [10, 11]. Soil fertility is enhanced by earthworm casting activities [12] and the modification of microbial biomass and activity [13]. Collembola (springtails) are another very important part of soil fauna by driving plant litter decomposition processes [14, 15]. Other key components of the soil food web are heterotrophic protists (hereafter 'protozoa') that are involved in soil fertility and plant productivity as they remobilize nutrients formally locked in bacterial biomass [16, 17] and link energy fluxes towards higher trophic levels [18, 19].
Pesticides have been shown to affect earthworms from the physiological to community level, where insecticides and fungicides appear to be the most toxic pesticides [20, 21]. Recently, also broad-band herbicides have been demonstrated to impact earthworms and mycorrhizal fungi [22, 23]. In an extensive review on non-target effects of neonicotinoids several deleterious effects on soil organisms have been shown [24]. Neonicotinoids in seed dressings have been reported to decrease earthworm activity, burrowing and growth [25–28] and also affect terrestrial isopods [29] and soil microorganisms [30]. When a neonicotinoid was used as a lawn treatment to target neonate white grubs (Coleoptera: Scarabaeidae) an averaged 58 % reduction of non-target abundance of Hexapods, collembola, Thysanoptera and Coleoptera was seen [31, 32]. Several other studies also showed detrimental effects of neonicotinoids on collembola [33, 34]. Substantially less is known on potential side effects of fungicide seed dressings. However, as both earthworms and collembola feed on fungi living in the soil [35, 36] few studies indeed found that both collembola [37] and earthworms [38] can be affected by fungicide seed dressings. However, to our knowledge no study tested direct or indirect feedbacks on the impact of insecticide and/or fungicide seed dressings on Protozoa.
The aim of the present study was (i) to test the impact of insecticide and/or fungicide seed dressings on the activity or abundance of various soil biota ranging from microorganisms to macrofauna, (ii) to examine whether potential effects of seed dressings might be altered by the activity of soil meso and/or macrofauna (i.e. collembola or earthworms) and (iii) to quantify feedbacks of seed dressings on the functional capacity of soil biota to decompose plant litter. Because of their direct incorporation into the soil we hypothesized that pesticides in seed dressings will directly affect soil organisms of different functional and phylogenetic affiliations. Neonicotinoid insecticides will affect collembola because of their close phylogenetic relationship to insects and fungicides will indirectly affect earthworms and collembola as they both feed on soil fungi or by direct side effects. Including species interactions in potential non-target pesticide effects should provide a more realistic evaluation of the situation in agroecosystems [21–23, 39].
Results
Generally, we observed earthworm and collembolan activity throughout the course of the experiment. Seed dressing significantly increased the cumulated surface activity of collembola (Fig.
1
; Table
1
), decreased litter decomposition rates and marginally significantly increased the abundance of soil protozoa (Fig.
2
; Table
1
). Fungicide seed dressings increased cumulative collembola activity when earthworms were absent (Fig.
1
a). Cumulative collembola activity was highest after fungicide seed dressing (148 ± 14 ind. pot
−1
), followed by insecticide seed dressing (88 ± 5 ind. pot
−1
;) and no seed dressing (69 ± 5 ind. pot
−1
, Fig.
1
a). Collembola surface activity was unaffected by seed dressings when earthworms were present (i.e. significant seed dressing × earthworm interaction; Fig.
1
b; Table
1
). Daily collembola activity was significantly increased by fungicide seed dressings (averaged 4.12 ± 0.70 ind. pot
−1
day
−1
) while insecticide seed dressing and non-treated seeds showed similar activities (2.44 ± 0.27 ind. pot
−1
day
−1
and 1.92 ± 0.46 ind. pot
−1
day
−1
, respectively; data not shown). Litter decomposition rate was significantly reduced by both fungicide and insecticide seed dressings (on average 0.029 ± 0.006) and higher when no seed dressings were used (0.050 ± 0.026; Fig.
2
c; Table
1
). Both types of seed dressings marginally significantly increased protozoa densities (Fig.
2
d; Table
1
). All other soil or plant parameters measured remained unaffected by seed dressings (Table
1
).

Table 1
ANOVA-results on the effects of seed dressings, earthworms and collembola on soil and plant parameter
Parameter

Seed dressing (SD)

Earthworms (EW)

Collembola (coll)

SD × EW

SD × coll

EW × coll

F

P

F

P

F

P

F

P

F

P

F

P

Earthworms

Surface activity (toothpicks)

2.37

0.104

–

–

2.97

0.091

–

–

1.42

0.253

–

–

Surface activity (no. casts)

0.78

0.464

–

–

8.02

0.007

–

–

0.30

0.739

–

–

Surface activity (cast mass)

0.75

0.479

–

–

2.87

0.097

–

–

0.91

0.411

–

–

Collembola

Surface activity (total no.)

5.04

0.010

62.56

<0.001

–

–

4.97

0.011

–

–

–

–

Surface activity (daily no.)

1.41

0.250

9.87

0.003

–

–

1.90

0.159

–

–

–

–

Protista

Flagellates (abundance g−1 soil)

3.36

0.053

0.13

0.720

–

–

0.16

0.849

–

–

–

–

Amoebae (abundance g−1 soil)

1.54

0.237

0.03

0.855

–

–

0.17

0.842

–

–

–

–

Protozoa (abundance g−1 soil)

3.31

0.055

0.01

0.933

–

–

0.02

0.979

–

–

–

–

Soil microorganisms

Basal respiration (µg CO2–C g−1 h−1)

1.01

0.372

14.794

<0.001

4.56

0.038

0.47

0.628

0.78

0.492

0.03

0.866

Microbial biomass Cmic (µg C g−1)

0.26

0.773

4.07

0.049

0.02

0.881

0.48

0.619

0.54

0.585

1.93

0.171

Metabolic quotient qCO2 (µg CO2–C g−1 h−1 Cmic h−1)

0.98

0.382

0.03

0.856

1.51

0.225

2.91

0.064

0.73

0.489

7.99

0.007

Litter decomposition

Decomposition rate (k)

3.80

0.043

0.01

0.955

0.45

0.507

0.19

0.825

1.03

0.368

1.01

0.322

Stabilisation factor (S)

0.25

0.779

0.29

0.588

1.34

0.254

0.26

0.769

2.07

0.139

1.80

0.187

Soil abiotic parameters

Water content (%)

1.98

0.149

20.83

<0.001

1.52

0.224

0.90

0.412

0.53

0.589

0.01

0.983

Temperature (°C)

0.05

0.951

2.71

0.106

0.17

0.678

0.83

0.443

0.15

0.864

0.66

0.422

Electrical conductivity (mS m−1)

0.02

0.980

9.30

0.004

0.01

0.958

2.22

0.119

0.09

0.915

0.01

0.957

Wheat parameter

Germination rate (%)

0.51

0.601

0.01

0.998

0.51

0.477

1.25

0.295

0.51

0.601

0.03

0.859

Height (cm)

2.11

0.133

93.77

<0.001

0.06

0.799

0.47

0.627

0.06

0.945

0.85

0.362

Biomass (g)

0.87

0.424

3.84

0.056

0.14

0.705

0.21

0.815

0.69

0.506

0.53

0.472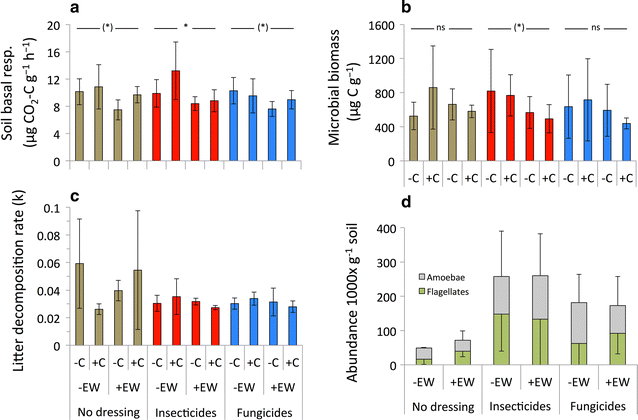 Earthworms significantly reduced the surface activity of cumulative collembola activity (Fig.
1
; Table
1
), reduced soil basal respiration regardless of seed dressing (Fig.
2
a) and reduced microbial biomass only when seed dressing was used (Fig.
2
b). Additionally, earthworms increased soil water content and soil electrical conductivity (Tables
1
,
2
). Collembola significantly increased earthworm surface casting activity (Fig.
3
; Table
1
) and increased soil basal respiration (Fig.
2
a; Table
1
). Interactions between seed dressing and earthworms or between earthworm and collembola affected soil qCO
2
(Table
1
).
Table 2
Soil water content, soil electric conductivity and soil temperature in response to seed dressings, earthworms and collembola
Seed dressing

Soil water content (%)

Soil electrical conductivity (mS m−1)

Soil temperature (°C)

−EW

+EW

−EW

+EW

−EW

+EW

−C

+C

−C

+C

−C

+C

−C

+C

−C

+C

−C

+C

No seed dressing

8.07 ± 1.68

7.73 ± 0.93

8.86 ± 2.36

11.11 ± 2.32

0.62 ± 0.04

0.61 ± 0.05

0.97 ± 0.66

1.02 ± 0.22

16.43 ± 0.81

16.62 ± 0.61

16.79 ± 0.44

16.46 ± 0.56

Neonics

8.46 ± 1.04

9.11 ± 1.06

11.37 ± 2.25

10.65 ± 0.49

0.74 ± 0.10

0.71 ± 0.06

0.88 ± 0.18

0.84 ± 0.10

16.43 ± 0.52

16.67 ± 0.30

16.72 ± 0.60

16.53 ± 0.44

Fungicide

8.33 ± 098

9.49 ± 0.59

10.01 ± 1.41

9.91 ± 1.49

0.74 ± 0.16

0.82 ± 0.34

0.82 ± 0.12

0.83 ± 0.12

16.44 ± 0.42

16.16 ± 0.60

16.76 ± 0.37

16.76 ± 0.40
ANOVA results

Soil water content

Soil electrical conductivity

Soil temperature

Factors

df

F

P

df

F

P

df

F

P

Seed dressing

2

1.976

0.150

2

0.022

0.978

2

0.070

0.933

Earthworms

1

20.826

<0.001

1

8.424

0.006

1

2.521

0.119

Collembola

1

1.518

0.224

1

0.026

0.872

1

0.193

0.662

SD × EW

2

0.904

0.412

2

2.490

0.094

2

0.846

0.436

SD × Coll

2

0.535

0.589

2

0.132

0.876

2

0.125

0.883

EW × Coll

1

0.000

0.983

1

0.001

0.980

1

0.681

0.413

The average germination rate of wheat seeds among treatments was 91.9 ± 9.3 %, however this was not affected by any treatment factor (Table
1
). Wheat growth was significantly and wheat biomass marginally significantly reduced by earthworms, however wheat growth was not affected by seed dressing or collembola (Fig.
4
; Table
1
). The mean final height of wheat was 33.8 ± 2.3 cm at 0.83 ± 0.30 g biomass when
L. terrestris
was present and 43.2 ± 3.5 cm at 0.69 ± 0.14 g without
L. terrestris
(Fig.
4
).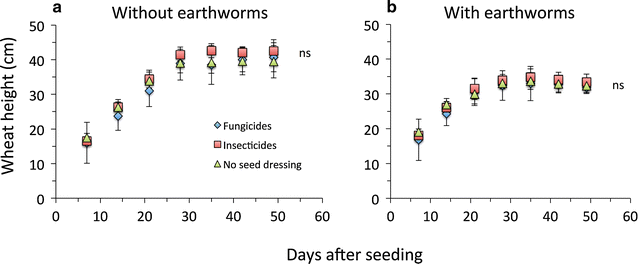 Discussion
This is among the first studies investigating realistic dosages of pesticide seed dressings on the activity of a variety of soil organisms and their consequence for ecosystem functioning exemplified by plant litter decomposition and crop growth. We found that fungicide seed dressings increased the activity of collembola and both insecticide and fungicides seed dressings increased the abundance of flagellate protozoa but decreased litter decomposition. Earthworm activity was not affected by seed dressings, however earthworms altered the response of collembola and soil microorganisms to seed dressings (i.e. seed dressing x earthworm interactive effects).
Soil fauna actively contributes to litter breakdown by grinding plant residues and thus increasing the surface area where bacteria and fungi actively mineralize carbon and nutrients [52, 53]. In our experiment litter decomposition rate was reduced by seed dressings, regardless whether insecticides or fungicides were used. As fungicides were also combined with the neonicotinoid insecticide seed dressings in the commercial seed material we used in the current experiment this indicates that neonicotinoids present in seed dressings had no additional effect on litter decomposition. The mesh size of the teabags we used (0.25 mm) also prevented the direct contribution of meso and macrofauna to litter breakdown [44], making the insecticide perhaps less relevant. Overall soil microbial biomass and activity was not affected by seed dressings suggesting potential shifts in soil fungal community composition rather than overall decrease in microbial (fungal) biomass and an increased nutrient input by decomposing fungi [54]. Our finding of reduced litter decomposition rates due to seed dressings could also be explained by increased protozoa abundance as protozoan grazing has been shown to affect the bacterial community structure in soil microcosms [55]. This assumption is further underpinned by strong increase in abundance of flagellate protists. Although flagellates may quickly respond to environmental changes [56, 57] the strong increase in the abundance of flagellate protist is surprising and reveals an important impact of seed dressings on basic soil food web functioning. Especially mycophageous flaggelates may have increased resource availability or reduced competition for resources that led to a twofold increase of flagellate cells. To the best of our knowledge, the present study is among the first ones reporting effects of pesticide seed dressings on protozoa. With abundances of several 100,000 individuals g−1 soil protozoa are at the base of the heterotrophic eukaryotic food web and an essential component in soil ecosystems because they consume a significant portion of the bacterial productivity, enhancing nutrient cycles and energy flows to the benefit of microorganisms, plants and animals [58–61]. Protozoa are also important grazers of rhizobacteria and can even influence aboveground herbivores [62].
In contrast to our hypothesis that collembola are strongly sensitive to insecticide seed dressing due to their close phylogenetic relationship to insects, seed dressings that only contained fungicides more strongly impacted collembola with an 250 % increase in surface activity and a 40 % increase in their reproduction rate. A higher surface activity of collembola might also be the consequence of an avoidance of soil areas contaminated with insecticide treated seeds. To what extent this can be interpreted as a reaction to chemical stressors needs to be investigated in specific behavioural experiments. Indeed, others also found an increased surface activity of collembola after application of seeds dressed with the neonicotinoid insecticide imidacloprid in the field [63]. Similary to flagellates, fungizide seed dressings may have increased resource availability for collembola, e.g. by increasing abundance of fast growing fungi that contain less toxins [64]. When fungicides and insecticides were sprayed, collembola were especially vulnerable [65] and have long been used as indicator species to asses non-target effects of agrochemicals [66].
Although, micro and mesofauna was affected by seed dressings, we found no clear effect on the casting activity of earthworms. This is a remarkable finding as earthworms are also known to feed on plant seeds [67–69]. In contrast, lethal and sublethal effects of neonicotinoid insecticides on earthworms have been documented by several studies [20, 26, 27]. However, these studies either considered sprayed insecticides and/or only tested the active ingredients while in the current study the complete formulations used by farmers, i.e. active ingredients including all (often non-declared adjuvants), were tested.
Earthworms altered effects of seed dressing on collembolan surface activity. We assume that the physical disruption by earthworm activity provided more hiding space and shelter for collembola hence mediating pesticide effects on collembola and also resulting in less collembola caught in pitfall traps. The effects of earthworms on the abiotic and biotic properties of their environment [70] may also have deluded local impact of seed dressings, however this also reflects organismic interrelationships present in agroecosystems. Additionally, earthworm activity also reduced protozoan abundance in presence of seed dressings suggesting shifts in organismic interactions due to seed dressings. Earthworms and collembola also affected soil basal respiration suggesting that negative effects of seed dressing on decomposition rate might have been counterbalanced by microbial activity. Remarkably in the current study earthworms decreased wheat growth, which is in line with [71] and might be due to feeding activities on roots [35, 72]. Soil water content was significantly increased in the microcosms containing earthworms which is probably a result of the decreased plant growth due to earthworm activity [22, 23] and thus a decreased transpiration of the winter wheat plants leading to higher soil moisture.
Conclusions
Our findings suggest that pesticide seed dressing of wheat not only influence abundances and activities of soil micro- and mesofauna but might also alter nutrient cycling (via litter decomposition) with potential consequences for the functioning of agroecosystems. Soil macrofauna (earthworms) activity appeared to be less affected by seed dressings. This study is a first attempt to investigate potential non-target effects of seed dressings under more realistic circumstances including organismic interactions rather than only testing specific isolated active ingredients in laboratory settings. The tested effects of seed dressings on soil biota indicate that complex interspecific interactions such as resource- and interference competition may influence the assessment of non-target effects of pesticides. The reported effects may seem subtle, however it has to be noted that they were observed after a one-time application of only 18 seeds per experimental unit. However, under real farming conditions pesticide dressed seeds are sown on the same field at least twice a year with accumulating pesticide levels in soils [2] and potentially more pronounced non-target effects and feed backs on the composition of soil biotic communities and agroecosystem functioning [73]. Clearly, long-term field investigations are needed to further clarify potential effects of agrochemicals used for seed dressings on non-target soil organisms.
Declarations
Authors' contributions
NK, AT, JGZ, YM, PQ, RK and AR contributed to data collection and/or data analysis. JGZ, NK, AT, RK, PQ, AR and MB wrote the majority of the paper with contributions from the co-authors. All authors read and approved the final manuscript.
Acknowledgements
We are grateful to Karl Refenner and Pia Euteneuer from the BOKU Research Farm Groß-Enzersdorf for providing the soil substrate. Mailin Gaupp-Berghausen and Judith Zehetgruber gave statistical advise.
Competing interests
The authors declare that they have no competing interests.
Availability of data and material
The dataset supporting the results of this article is available with open access in the digital repository Zenodo Research.Shared (zenodo.org): http://dx.doi.org/10.5281/zenodo.59008.
Funding
No funding was received for this research.
Open AccessThis article is distributed under the terms of the Creative Commons Attribution 4.0 International License (http://creativecommons.org/licenses/by/4.0/), which permits unrestricted use, distribution, and reproduction in any medium, provided you give appropriate credit to the original author(s) and the source, provide a link to the Creative Commons license, and indicate if changes were made. The Creative Commons Public Domain Dedication waiver (http://creativecommons.org/publicdomain/zero/1.0/) applies to the data made available in this article, unless otherwise stated.
Authors' Affiliations
(1)
Institute of Zoology, University of Natural Resources and Life Sciences Vienna (BOKU), Vienna, Austria
(2)
Institute for Seed and Propagating Material, Phytosanitary Service and Apiculture, Austrian Agency for Health and Food Safety (AGES), Vienna, Austria
(3)
Department of Terrestrial Ecology, Institute of Zoology, University of Cologne, Cologne, Germany
(4)
Forschungszentrum Jülich, Institute of Bio- and Geosciences, IBG-2: Plant Sciences, Jülich, Germany