Research article

Open Access
Genetic censusing identifies an unexpectedly sizeable population of an endangered large mammal in a fragmented forest landscape
Received: 9 July 2015
Accepted: 15 July 2015
Published: 25 August 2015
Abstract
Background
As habitat degradation and fragmentation continue to impact wildlife populations around the world, it is critical to understand the behavioral flexibility of species in these environments. In Uganda, the mostly unprotected forest fragment landscape between the Budongo and Bugoma Forests is a potential corridor for chimpanzees, yet little is known about the status of chimpanzee populations in these fragments.
Results
From 2011 through 2013, we noninvasively collected 865 chimpanzee fecal samples across 633 km2 and successfully genotyped 662 (77%) at up to 14 microsatellite loci. These genotypes corresponded to 182 chimpanzees, with a mean of 3.5 captures per individual. We obtained population size estimates of 256 (95% confidence interval 246–321) and 319 (288–357) chimpanzees using capture-with-replacement and spatially explicit capture–recapture models, respectively. The spatial clustering of associated genotypes suggests the presence of at least nine communities containing a minimum of 8–33 individuals each. Putative community distributions defined by the locations of associated genotypes correspond well with the distribution of 14 Y-chromosome haplotypes.
Conclusions
These census figures are more than three times greater than a previous estimate based on an extrapolation from small-scale nest count surveys that tend to underestimate population size. The distribution of genotype clusters and Y-chromosome haplotypes together indicate the presence of numerous male philopatric chimpanzee communities throughout the corridor habitat. Our findings demonstrate that, despite extensive habitat loss and fragmentation, chimpanzees remain widely distributed and exhibit distinct community home ranges. Our results further imply that elusive and rare species may adapt to degraded habitats more successfully than previously believed. Their long-term persistence is unlikely, however, if protection is not afforded to them and habitat loss continues unabated.
Keywords
Habitat fragmentation
Genetic census
Ecological corridor
Chimpanzee
Population estimate
Pan troglodytes
Mark recapture
Background
Habitat loss and fragmentation are key threats to the survival of many species [1], with global deforestation resulting in the majority of remaining forest lying within 1 km of a forest edge [2]. Fragmentation can isolate populations, thereby reducing genetic diversity and population viability, which may result in local extinctions [3–5]. As wildlife populations face increasing anthropogenic threats, there is growing urgency to better understand how species respond to environmental disturbances. Although degraded habitats are often thought to have limited conservation value, many threatened species inhabit such environments [6]. Riparian forest fragments in particular can offer suitable habitat, providing dense resources to support wildlife [7, 8]. In addition, fragmented forests can sustain connectivity by linking larger populations, thereby enhancing gene flow and population viability [9–11]. Therefore, the potential of fragmented habitats to support viable populations must be carefully considered alongside the peril they pose to wildlife.
Large-bodied, wide-ranging mammals such as great apes are among the taxa most affected by growing habitat fragmentation. These species often live in unprotected areas, which are particularly vulnerable to forest loss and fragmentation [12, 13]. In East Africa, deforestation has led to increasing habitat fragmentation and poses a primary threat to the survival of eastern chimpanzees, Pan troglodytes schweinfurthii [14]. Eastern chimpanzees inhabit lowland and montane forest, woodland, savanna, and swamp forest habitats throughout various parts of East and Central Africa, with much of their current range occurring outside protected areas [14]. Three-quarters of chimpanzees in Tanzania are estimated to live outside national parks [15]. In Uganda, logging has led to a 37% reduction in forest cover between 1990 and 2010 [1, 16], and much of this deforestation occurred outside protected areas, leaving chimpanzees in such habitats vulnerable to local extinction [2, 17]. Similar patterns have also been reported for chimpanzees in West Africa [12, 18].
Because chimpanzees are an endangered species [19], it is essential to better understand their ability to persist in fragmented and degraded habitats. Moreover, precise estimates of the sizes and distributions of remaining populations are needed in order to establish research priorities and conservation management strategies. Such estimates can be challenging to obtain, however. Chimpanzee habituation allows for direct monitoring and hence precise censuses, but is a lengthy process which is necessarily restricted to small numbers of individuals, and may not be ethically appropriate or logistically feasible for many populations [20, 21]. Nest count surveys can be used to estimate the distribution and abundance of unhabituated chimpanzee populations. However, these survey methods may be inaccurate and lack the precision necessary to determine trends in population size [22–24]. Such studies are also arduous to carry out, as commonly used nest count methods rely on data regarding nest decay rates and nest building and re-use rates, which can be highly variable and are often unknown locally [22, 23, 25, 26]. Recently, camera trapping and passive acoustic monitoring have also been utilized to census apes [27–29]. However, these techniques are still in their infancy, while methods for efficiently automating individual identification are still in development [15, 30].
The challenges of accurately and precisely enumerating chimpanzee populations are similar to those posed by surveys of other rare and elusive mammal populations, including bears [31], gorillas [32–34], African elephants [35], Eurasian otters [36], and giant pandas [37]. These challenges have led to the widespread implementation of genetic censusing (e.g., in chimpanzees [38–40]), which relies on the characterization of individual DNA profiles derived from noninvasively collected samples [41]. The minimum number of individuals using the surveyed area is determined by the number of unique profiles, and resampling frequency can be used to estimate the number of animals that went undetected [42, 43].
Standard approaches for genetic censusing have relied upon accumulation curves and Bayesian estimators, along with more recent "capture with replacement" (capwire) models [43–45]. However, the population size estimates these methods provide cannot be converted to density estimates except by collecting ancillary data or making restrictive assumptions [46, 47]. Density is generally a valuable parameter because it can be compared across populations of varying size and geographic scope, and used as an indicator for behavioral ecology and conservation questions relating to, for example, resource density, group structure and dynamics, and hunting pressure [31, 48, 49]. Recently developed spatially explicit capture–recapture (SECR) models allow the density of geographically open populations to be estimated directly from spatially-referenced detections of individuals, by modeling probability of detection as a (usually decreasing) function of the distance between detectors or areas searched and individuals' centers of activity [50–53]. SECR models are robust to spatial gaps in data collection [50, 52], which are common when sampling elusive species in degraded or mixed habitats.
In western Uganda, the approximately 1,200-km2 landscape of the Northern Albertine Rift separating the Budongo and Bugoma Forests illustrates such a degraded mosaic habitat. The government-owned Budongo and Bugoma Forest Reserves are each inhabited by over 600 chimpanzees, together composing approximately one-quarter of the estimated total chimpanzee population in Uganda (5,000 individuals [54]). The corridor between these forest blocks is a human-dominated landscape comprising mosaic riparian forest with villages, agricultural lands, and natural grasslands [55]. Most forests in this habitat are privately owned, but a few small government-owned forest reserves are present. The small forests in this region have been targeted for potential corridor enhancement given the vital role they may play for gene flow in numerous species throughout this region [56].
Despite the conservation potential of this habitat, few studies have examined the population size and distribution of its chimpanzees. A nationwide chimpanzee census used a nest count survey of forest fragments near the Bugoma Forest to extrapolate an estimate of ~70 chimpanzees in the corridor region [54]. Later, McLennan [55] found evidence of chimpanzees throughout the corridor habitat and estimated a total regional population of up to 260 individuals, an extrapolation derived from the estimated density of one chimpanzee community (Bulindi) in the corridor area [55]. Given the potentially vital role of this chimpanzee population in maintaining gene flow among chimpanzees of the Northern Albertine Rift, it is important to better understand the size and distribution of this population. The goal of this study was to use genetic censusing techniques to estimate the population size and distribution of this corridor population of chimpanzees in western Uganda. To do so, we estimated chimpanzee density using a spatially explicit model, as well as estimating abundance using both capwire and spatially explicit models. We further examined the number and spatial distribution of putative chimpanzee communities by analyzing the clustering of co-sampled genotypes. Additionally, because chimpanzees typically exhibit male philopatry and female dispersal, we examined the clustering of Y-chromosome haplotypes, which are paternally inherited and therefore can be used to reveal community affiliations [38, 40, 57].
Results
Genetic sampling and discriminating individual chimpanzees
We collected a total of 865 fecal samples over 633 km2 during the study period (Figure 3). Of these, 662 (76%) amplified reliably at a minimum of three of four test loci and were thus genotyped at an additional 11 loci. Based on our allele frequencies, we calculated that comparison at a minimum of nine loci was necessary to obtain a PIDsib < 0.001 and thus confidently determine that identical genotypes originated from the same individual rather than two different individuals, including for example full siblings. Of the 662 genotypes, 459 matched exactly to one or more other genotypes and were merged to create consensus genotypes. An additional five genotypes were removed from analysis because they matched other genotypes with a PIDsib > 0.001. The final genotype list consisted of 128 individuals identified in multiple samples (range 2–12) and 68 individuals genotyped once. For the analyses presented here, we removed 16 genotypes representing 14 individuals from a chimpanzee community in Siiba Forest Reserve, a continuous forest located to the south of the Budongo Forest (Figure 3). Since these genotypes originated from few samples in an under-searched area of continuous forest habitat, they were not informative or representative of the study population. The remaining genotypes represented 182 individuals, of which 111 (61%) were identified as female and 71 (39%) as male (Additional file 2). Consensus genotypes for these individuals were 95% complete, with 134 individuals typed at all 14 loci. Nine individuals were genotyped at fewer than nine loci, but their genotypes did not match any others and thus were retained in the data set. The mean number of captures per genotyped individual was 3.5.
Putative chimpanzee communities and Y-chromosome haplotype distributions
By grouping genotypes from samples found together we found ten spatial clusters that were geographically distinct from one another, thus suggesting the presence of at least nine potential communities in the study area, along with one additional cluster, Kiraira. Community-specific population sizes estimated using
capwire
ranged from 5 to 48, and totaled 244 (Table
2
). Data were insufficient to evaluate the fit of different models to data from Kiraira, and the upper confidence limit under the ECM was equal to the maximum population size we provided when fitting the model, indicating estimation problems. Figure
4
displays the distribution of putative communities.
Table 2
Community-specific capwire estimates
| Group | n | N (groups) | 95% CI | Monitoring estimate |
| --- | --- | --- | --- | --- |
| Bulindi | 17 | 19 (2) | 17–21 | 19 |
| Kasokwa | 8 | 8 (1) | 8–9 | 15 |
| Kasongoire | 28 | 38 (3) | 31–56 | 34 |
| Katanga | 26 | 48 (1) | 31–83 | |
| Kiraira | 5 | 5 (1) | 5–200 | |
| Kiryangobe | 13 | 15 (2) | 13–20 | |
| Kityedo | 16 | 18 (2) | 16–21 | |
| Kyamuchumba | 11 | 13 (1) | 11–19 | |
| Mukihani | 25 | 46 (2) | 36–70 | |
| Wagaisa | 33 | 34 (2) | 33–38 | |
| Group-specific total | 182 | 244 | | |
| Overall total | 182 | 256 (3) | 246–321 | |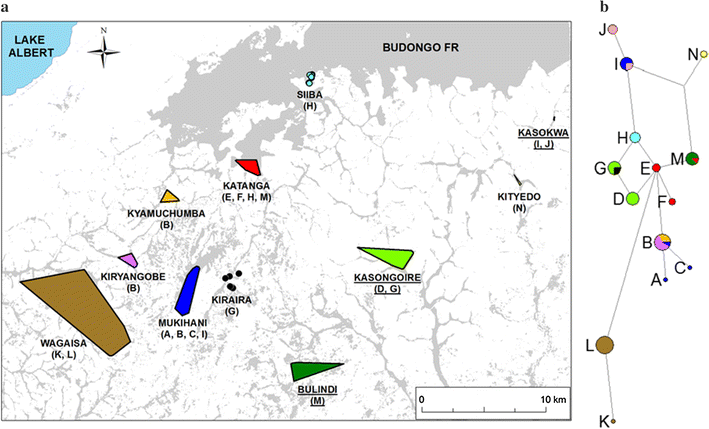 From 76 total males (including those from Siiba) we found 14 Y-chromosome haplotypes, and these were 99% complete. Ten of these haplotypes were observed respectively only in single putative communities, thereby supporting community association data from genotype clusters. However, four haplotypes were shared among more than one putative community (Haplotypes B, G, I, and M; Figure 4). Overall, haplotypes shared a high degree of similarity as shown by their proximity in a median joining network (Figure 4).
Abundance estimation
A likelihood ratio test supported the capwire TIRM model over the ECM model when fit to the full data set (ratio 132.4, P < 0.01). Partitioning into three groups was also supported (P < 0.01). We obtained a population size estimate of 256 (95% confidence interval (CI) 246–321]. The SECR estimate of average density across the fragmented landscape was 0.404 chimpanzees per km2 (SE = 0.033, 95% CI 0.34–0.47). The SECR density within forest fragments was 2.13 chimpanzees per km2, (SE = 0.17, 95% CI 1.8–2.5). The associated estimate of population size was 319 (SE = 17.6, 95% CI 288–357). The precision of the population size estimates, calculated as the CI width divided by the estimate, was 29% and 22% for the capwire and SECR estimates, respectively. The coefficient of variation (CV) of the SECR population estimate, measured as SE divided by the estimate, was 0.055.
Conclusions
Using genetic censusing, we found a surprisingly large population of chimpanzees inhabiting largely unprotected forest fragments in western Uganda. The large size and widespread distribution of this population suggests it serves as a vital link between larger populations in the neighboring Budongo and Bugoma Forests. These results demonstrate the potential for forest fragments to serve as wildlife corridors, and for animal populations to be widely distributed in degraded habitats. Despite this potential, however, the habitat is rapidly being altered, and its capacity to support chimpanzees and other species may not persist unless the rate of habitat change is slowed considerably.
Availability of supporting data
The data sets supporting the results of this article are included within the article and its additional files.
Abbreviations
SECR:

spatially explicit capture–recapture
PCR:

polymerase chain reaction
ECM:

even capture model
TIRM:

two innate rates model
CI:

confidence interval
CV:

coefficient of variation
DAAD:

Deutscher Akademischer Austausch Dienst (German Academic Exchange Service)
MCP:

minimum convex polygon
Declarations
Authors' contributions
MSM, LV, MA, and CBS designed the study. MSM and JDL conducted the research. MSM, JDL, and EJH analyzed the data. MSM, LV, MA, EJH, and CBS wrote the manuscript. All authors read and approved the final manuscript.
Acknowledgements
We thank the Uganda National Council for Science and Technology, the Uganda Wildlife Authority, and the National Forestry Authority for permission to conduct this research. This study was funded by the American Society of Primatologists, the German Academic Exchange Service (DAAD), the Max Planck Society, the University of Southern California Jane Goodall Research Center and Dornsife College of Letters, Arts, and Sciences, the Nacey Maggioncalda Foundation, and Primate Conservation, Inc. For assistance during field work, we thank Henry Irumba, Matthew McLennan, Nicholas Rugadya, Tom Sabiiti, Moses Ssemahunge, and Emily Stewart. We also thank Janette Wallis and the Kasokwa Forest Project for support with data collection in the Kasokwa Forest. For assistance with laboratory work, we thank Anette Abraham, Amy Heilman, and Veronika Staedele. For helpful advice and during data collection and analysis, we thank Kevin Langergraber and Deborah Moore. For helpful comments on an earlier version of this manuscript, we thank Verena Behringer and Matthew McLennan.
Compliance with ethical guidelines
Competing interests The authors declare that they have no competing interests.
Open AccessThis article is distributed under the terms of the Creative Commons Attribution 4.0 International License (http://creativecommons.org/licenses/by/4.0/), which permits unrestricted use, distribution, and reproduction in any medium, provided you give appropriate credit to the original author(s) and the source, provide a link to the Creative Commons license, and indicate if changes were made. The Creative Commons Public Domain Dedication waiver (http://creativecommons.org/publicdomain/zero/1.0/) applies to the data made available in this article, unless otherwise stated.
Authors' Affiliations
(1)
Department of Biological Sciences, Dana and David Dornsife College of Letters, Arts, and Sciences, University of Southern California, Los Angeles, USA
(2)
Max Planck Institute for Evolutionary Anthropology, Leipzig, Germany
(3)
Centre for Research into Ecological and Environmental Modelling, The Observatory, Buchanan Gardens, University of St Andrews, Fife, UK