Research article
Open Access
The interplay between seasonality and density: consequences for female breeding decisions in a small cyclic herbivore
Received: 4 February 2014
Accepted: 22 April 2014
Published: 28 May 2014
Abstract
Background
Cyclic rodent population dynamics are subjected to both intrinsic regulatory processes such as density-dependence and extrinsic environmental forcing. Among extrinsic factors, seasonal environmental variation is understood to facilitate cycles. In rodents, these processes have been studied mostly independently and their relative importance for population dynamics is poorly known.
Results
We performed a detailed analysis of common vole (Microtus arvalis) reproduction in a cyclic population using a spatially extensive data set over 17 years in central-western France. Environmental seasonality was the main source of explained variation in common vole reproduction. Additionally, inter-annual variation in the environment explained a smaller part of the variance in reproduction in spring and summer than in winter, whereas the effect of density was only found in autumn and winter. In particular, we detected a strong impact of plant productivity on fecundity during the breeding season, with low vegetation productivity being able to bring vole reproduction nearly to a halt. In contrast, vole reproduction during autumn and winter was mainly shaped by intrinsic factors, with only the longer and heavier females being able to reproduce. The effect of population density on reproduction was negative, mediated by direct negative effects on the proportion of breeders in autumn and winter during outbreak years and by a delayed negative effect on litter size the following year.
Conclusions
During the main breeding season, variability of female vole reproduction is predominantly shaped by food resources, suggesting that only highly productive environment may induce vole outbreaks. During fall and winter, variability of female vole reproduction is mainly controlled by intrinsic factors, with high population density suppressing reproduction. This suggests, in this cyclic population, that negative direct density dependence on reproduction could explain winter declines after outbreaks.
Keywords
SeasonalityPopulation cyclesCommon voleDensity-dependenceFecundity
Background
Demographic rates such as immigration, emigration, birth and death depend on density-independent (i.e. environmental factors) as well as density-dependent processes, which ultimately cause changes in population size [1]. At temperate and arctic latitudes in particular, seasonal fluctuations in climate and day length constrain the primary production of ecosystems. For animals, this seasonality of environment constrains reproduction both in the timing [2] and duration of the breeding season [3]. Indeed, variation in day length has been found to have a major impact on several life history traits related to breeding (reviewed in [2]). Population dynamics of herbivores is also severely impacted by food availability [4–6]. This is particularly true for rodents, which are small species with high fecundity, and are therefore highly sensitive to changes in food availability, notably through the regulation of reproduction. Food quality and quantity have been shown to accelerate rodent sexual maturation [7, 8], to increase the length of the breeding season [9, 10], the fraction of the population breeding [8–10] and litter size [11, 12]. Additionally, population density may act negatively on reproduction when population size approaches or exceeds the carrying capacity (e.g., [13, 14]), through an increase in competition (interference or resource depletion [15]).
The role of density dependence is particularly important in cyclic populations [16–18] and reproduction is known to vary with the phase of the cycle (e.g.[19–21]). Density dependent reproduction rates are actually suspected to play a leading role in the crash phase, as observed in some cyclic systems [21, 22] and as predicted mathematically [23]. Indeed, Smith et al. [23] and Ergon et al. [21] suggested that a delayed density-dependent effect in the timing of the onset of breeding was sufficient to generate population cycles in the field vole Microtus agrestis in the UK. Conversely, density-independent factors have been less studied in cyclic systems, despite the fact that most cyclic rodent populations are found in highly seasonal environments [24]. Even fewer studies have investigated simultaneously the density-dependent (intrinsic) and density independent (extrinsic) influences on cyclic dynamics (but see [25, 26]), although such joint analyses are crucial to understand variation in complex population dynamics, since failure to account for one type of effects may bias estimates of the other.
Several studies have separately investigated the intrinsic and extrinsic population processes in populations of the common vole (Microtus arvalis), but their combined effect on the population dynamics are still poorly understood. This species is well known for its episodic plagues [27, 28], and exhibits cyclic dynamics in many parts of Europe [28–31]. Locally, densities of up to 2000 individuals per hectare have been described [32, 33] at which negative density dependence is expected to occur. Furthermore, other intrinsic factors, such as kinship [34], weight [35] or age [36, 37] have been demonstrated to impact reproduction. The common vole is also a seasonal breeder [38, 39] with a higher percentage of breeders and larger litter size in spring and summer than in winter [35, 40–43]. Several environmental parameters are known to affect breeding, such as photoperiod [44–46], temperature [47, 48] and food quality [34, 38, 40].
In a previous study of common voles in central-western France, Inchausti et al. [
26
] showed that the life history traits related to reproduction were not regulated by direct density dependent processes. Only a slight negative delayed density effect was observed on litter size and the proportion of breeders, particularly in the spring following a year of peak densities. However, this study focused on a restricted part of the year (April to June) and took into account only intrinsic factors in the analysis. Using the same data set (now extended to 17 years), we performed a more detailed analysis taking into account both the seasonal environment (i.e. intra-annual variation in day length, temperature and an index of plant productivity) and its interaction with density. We expected a strong seasonal pattern of reproduction due to the predictable seasonality of extrinsic variables but, in addition, we predicted that inter-annual variability in the environment would impact the reproduction rate. We take advantage of the considerable variation in density along the vole cycle (Figure
1
a) to analyse the extent to which the timing of the onset and end of the breeding season result from an interaction between seasonality and density (see [
17
,
23
] for studies conducted on the close relative
M. agrestis
). Focusing on common vole female productivity, our aims were i) to assess accurately the role of environmental variability on reproduction, by decomposing seasonality into its predictable component (mean multi-annual pattern) and the inter-annual deviation from the mean (i.e., season quality); ii) to analyse the contributions of extrinsic and intrinsic factors in determining reproductive output, and iii) to empirically explore the existence of a delayed density-dependent on reproduction. Our analysis is based on a time series of 17 years (Figure
1
b).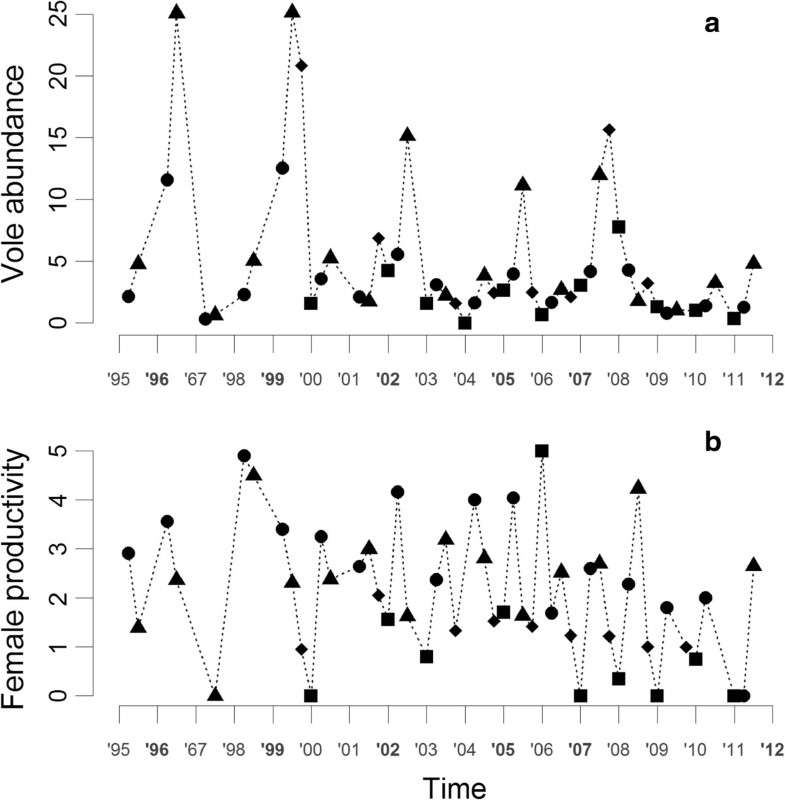 Discussion
The two components of vole breeding effort (litter size and breeding probability) had a similar seasonal pattern. The fraction of breeders showed a higher variability than litter size, suggesting that the main part of variance in productivity is due to the probability of breeding. All variables (except past June abundance) showed a significant interaction (although sometimes of a small magnitude) with seasonal trends, highlighting that the effects of environment (NDVI and temperature anomalies), morphology (body length and body condition) and density on reproduction, all vary seasonally. Density had a negative effect on reproduction at the end of the breeding season, with negligible reproductive activity when field-level autumn density exceeded an index of 15 (outbreak abundance, Figure 5c).
In this study, the number of pregnant females was probably underestimated since we cannot detect embryos in the first half of the 21 days of pregnancy. Therefore our index was probably relevant. It probably helps explaining, in addition to complex structure of the explained variable, why the best model explained only 14.43% of total deviance.
Vole reproduction in a seasonal environment
Common vole reproduction is characterized by a strong seasonal pattern. This pattern is well explained by the PCA summarising seasonal patterns in day length, day-length trends, NDVI and temperatures (Figure 4). The relative contribution of each variable to this pattern cannot be ascertained due to colinearity between variables. However, this is in agreement with previous experimental studies on common vole [46, 47] suggesting that breeding phenology is controlled by day length and food quality. Moreover, we showed that NDVI anomalies have a large impact on both the breeding probability and litter size, though only during the main breeding season (spring and summer), which can be as unproductive as autumn and winter when the plant productivity anomaly is very low (Figure 5d). This pattern is particularly clear, despite the low spatial precision of the NDVI data used (averaged over the study area) relative to a common vole's home range (a few hundreds of square meters [56, 57]). NDVI is thus probably a good proxy of resources available to common voles at a large scale. The large impact of NDVI anomalies in spring and summer suggests that plant productivity is a major limiting factor of common vole reproduction, consistent with other studies [18, 35, 43]. Furthermore, the reproduction decrease starting from the end of summer regardless of NDVI anomalies and temperature anomalies, suggests that the decrease of day length constrains reproduction during autumn. Short day length has been shown to inhibit reproduction [44, 45, 47] and may be the main limiting factor impacting reproductive rate during winter. Seasonality of rodent induced by seasonality of environment is a quasi compulsory adaptation in temperate and Nordic latitudes to match juvenile growth to food availability [2]. In several studies involving rodents, an addition of food resulted in an increase of reproduction [7–12]. However, it is less clear whereas natural inter-annual variation of food availability is able to influence reproduction to a similar extent. Nevertheless, vegetation productivity varies also under the influence of temperature and precipitation, suggesting that large climatic fluctuations may impact common vole population dynamics (see also [68]). We found that the inter-annual variability of plant productivity could have strong effect on reproduction, particularly in spring and summer, and thus possibly on population dynamics. A possible example may be the year 2007, when major common vole outbreaks occurred in several European countries [28], including this area, where an outbreak was not expected until 2008 (due to 3-years cyclicity). This outbreak occurred after a 9 months long, strong positive anomaly of plant productivity (more than four times greater than other anomalies between 1981 and 2010) observed all over Europe, suggesting a Moran effect (see [69] for theory and [70] for an empirical demonstration), synchronising common vole outbreaks across Europe. Low plant productivity may prevent high reproductive rates during the main breeding season. This implies that common voles could not reach high density in a non productive environment and means that high plant productivity may be a prerequisite for common vole population cycles. In several cases, population cycles were linked to climate variability (especially North Atlantic Oscillation, e.g. in Europe [70] and in North America [71, 72]) and direct link between food availability and oscillations was suggested [70] even if food is described more as a limiting factor impacting winter survival than a limiting factor impacting spring population growth rate.
Morphological characteristics influencing reproduction
Individual morphological characteristics are strong drivers of both the individual likelihood of being pregnant and litter size. As expected, larger females are more likely to be pregnant and have larger litters (Figure 5a). These results suggest that the effect of body size on reproduction results from the ability of female common voles to reproduce from the age of 2 weeks in extreme cases [37, 73], long before reaching their "longest" body size (after 6 months of age; [36, 56]). Young (i.e. small) females reproduce less and produce smaller litters than older ones due to allometric constraints. However, the relation between body size and reproductive status is variable within years (Figure 5a). Our results suggest, consistently to others studies (e.g., [74]), that voles may breed more precociously (i.e. at a smaller size) during spring and summer (see also [42]) while bigger females may breed throughout the year (albeit at a reduced rate in autumn and winter). The higher relative cost of reproduction during fall and winter probably (less resources, binding climatic conditions) explains why smaller females in fall and winter have to delay their reproduction. Those effects are well known in small rodent [e.g. [37, 74, 75]. However, the variation of reproduction cost along year is partially due to environmental seasonality (temperature, day length, food availability: [2, 64]) and therefore vole cohorts may differ with regard to body size, since the latter is generated by adaptation to environmental seasonality. The effect of the seasonality of body size on reproduction is thus partially induced by environmental seasonality.
Body condition appears to be an important determinant of breeding status and shows a clear seasonal pattern, with negative effects on productivity during spring and summer, but positive effects in autumn and winter (Figure 5b). The positive influence of body condition on reproduction during autumn and winter suggests that only the fattest females are able to reproduce during the less favourable seasons and that they remain in better condition than others, a rather general result [58]. In contrast, the negative association between body condition and reproduction in spring and summer suggests that females lose weight during pregnancy in these seasons. This latter result is more difficult to explain since food availability is higher in that period. It could be a spurious relationship due to the fact that female breeding status is biased due to our measurement method (pregnancy is not detectable before 10 days), leading to false zero represented by undetected reproductive females.
Density dependence
Density is known to greatly vary in space and time in western France common vole population (Figure 1a, [76, 77]). However, density does not appear to have a strong impact on the proportion of breeding females or on litter size during the core breeding season (see also [26]) but we found evidence that the proportion of breeders is reduced during the high density phase (Figure 5c). Due to the relation between body size and reproduction, during autumn and winter, only the bigger common voles are able to reproduce, but they reproduce less. This reduction of reproduction rate in autumn and winter becomes stronger at high population density, up to a complete halt in breeding at the highest local densities (Figure 5c). Additionally, individuals are smaller after a population crash [26] and smaller individuals produce smaller litters [35]. An additive negative effect of past June abundance was found on litter size, resulting in a litter size reduction of 28% in springs following crashes. A possible explanation is that the peak induces a reduction of individual quality through developmental disorders or maternal effects [78]. This may result in a decrease in the population growth rate the year following the peak and contribute to a prolonged low phase sensu Boonstra et al. [79].
Despite the observation of density dependence, population regulation is fundamentally different in this system compared to M. agrestis (the closest "cyclic" species) in northern England [21, 22]. In the latter system, one-year delayed density-dependence affected the length of the breeding season contributing to a crash due to an absence of recruitment. In our case, the length of the breeding season may be decreased by an early halt to reproduction at high current densities which is compatible with explaining crashes by an absence of recruitment including its timing [22, 23]. However, contrary to M. agrestis in northern England, only direct density dependence was observed before crash and thus delayed density dependence cannot induce the decline in the studied common vole population.
Conclusions
Environmental seasonality variables (day-length, temperature, plant productivity) were the main drivers of common vole reproduction in central-western France. Among environmental variables, plant productivity appeared to have a critical role, determining inter-annual variability of female common vole reproduction. Hence, the peak of vole reproduction occurred in spring, when environment is highly productive. This suggests that outbreak abundances (i.e. several thousands per hectare) can be only reached in areas where plant productivity is high during several months per year, which is consistent with the absence of record, to our knowledge, of common vole cyclic dynamics in non agricultural landscape (for a French population in non agricultural landscape, see [80]). Modern agriculture, with the enhancement of plant productivity may have promoted common vole outbreaks by favouring their reproduction.
During the less favourable seasons, intrinsic factors and particularly local density strongly impacted common vole reproduction. Given the low survival of common vole (a few months), a stop of reproduction may cause a drastic population decline in a short time. In the case of western France common vole cycles, this suggests that the decline phase following outbreaks may have been partly or totally caused by direct density dependence, conversely to the declines observed in northern rodent cycles. Furthermore, this study demonstrates that researchers should spend more time on measuring vole reproduction outside of the main activity season.
Declarations
Acknowledgments
We thank Thomas Cornulier, David Carslake, Frederic Barraquand, Xavier Lambin, Florian Barnier and Hélène Lisse for helpful comments on the manuscript, Kevin Lerest for his help on zero-inflated models, the research program Ecocycles (ANR-EraNet) for the rodent specialist network providing us interesting discussions during meetings and exchanges, and Xavier Lambin and Rolf Ims for giving the opportunity to work in their labs. The authors wish to thank the anonymous reviewers that greatly improved our Ms with their numerous constructive comments. We are especially grateful to the numerous field workers who collected the time series data over the last 17 years. We thank R developer for providing free, complete and useful statistical software. Funding was provided by Université Pierre et Marie Curie (grant to AP). This study benefited from partial funding through BiodivERsA project "Ecocycle" and NERC NE/G002045/1.
Authors' Affiliations
(1)
Centre d'Etudes Biologiques de Chizé (CEBC-CNRS), France
(2)
Clermont Université, VetAgro Sup, Clermont-Ferrand, France
(3)
INRA, USC1339 (CEBC-CNRS), France
Copyright
© Pinot et al.; licensee BioMed Central Ltd. 2014
This article is published under license to BioMed Central Ltd. This is an Open Access article distributed under the terms of the Creative Commons Attribution License (http://creativecommons.org/licenses/by/4.0), which permits unrestricted use, distribution, and reproduction in any medium, provided the original work is properly credited. The Creative Commons Public Domain Dedication waiver (http://creativecommons.org/publicdomain/zero/1.0/) applies to the data made available in this article, unless otherwise stated.