BMC Ecology image competition: the winning images
Received: 11 March 2013
Accepted: 12 March 2013
Published: 22 March 2013
Abstract
BMC Ecology announces the winning entries in its inaugural Ecology Image Competition, open to anyone affiliated with a research institute. The competition, which received more than 200 entries from international researchers at all career levels and a wide variety of scientific disciplines, was looking for striking visual interpretations of ecological processes. In this Editorial, our academic Section Editors and guest judge Dr Yan Wong explain what they found most appealing about their chosen winning entries, and highlight a few of the outstanding images that didn't quite make it to the top prize.
Editorial
"The camera industry is one of the few innocuous parasites in wild nature" [1]
In his 1949 collection of essays A Sand County Almanac the ecologist Aldo Leopold lamented the loss of wild nature in his native US and the increasing disconnection between man and the natural world. Although he saw the use of photography as a means to reconnect people to ecosystems, would he ever have envisaged how ubiquitous the camera would become in the digital age?
The ease with which nature can now be captured using modern photography is manifest in many high-quality prizes established for professionals and amateurs alike; for example the Natural History Museum/ BBC Worldwide Wildlife Photographer of the Year [2], or the National Geographic Photo Contest [3].
While these showcase the undoubted talents of a diverse demographic of photographers, here at BMC Ecology we wanted to find out whether the natural world might be viewed differently from the perspective of professional ecologists like Leopold, with a specific emphasis on the central idea behind the study of ecology as a science—how organisms interact with each other and their environment.
Compared to many other scientists, ecologists might consider themselves fortunate. Although ecological processes are complex, they often have strikingly visual components: a bee pollinating a flower, a predator hunting its prey, a fight between two rivals, the intricate habitat of a growing tree. Our intimate connection to our environment gives such images a visceral appeal. At its best, that appeal can be used to tell an ecological story, illuminate our understanding of nature, and highlight our investigations into it. By asking ecologists to send us their visual interpretations of the natural world—not just limited to photography—we hope to bring you a unique window into how the world around us is currently being investigated.
In the spirit of scientific peer-review, we asked the Editorial Board of BMC Ecology to judge not only the visual appeal of these entries, but how they communicated this complexity. Every entrant was also given the opportunity to have their images published by our partners at the Biology Image Library [4], an online collection of resources for scientifically reliable teaching and learning in biology and biomedicine. All images are subject to peer-review before inclusion in the library, and include full metadata for each file.
To judge the overall winners, we are delighted to have Dr Yan Wong [5], an evolutionary biologist who – through the slightly different medium of BBC television and radio – also tells stories about science in general, and biology in particular. We're also very pleased to be taking up his suggestion of a donation to the Wytham Woods Appeal Fund [6], and in a minor way, contribute to the continued maintenance of this outdoor ecological laboratory, which has proved such a fruitful resource for generations of ecologists.
From the outset, we were aiming to garner entries from all branches of ecology. Indeed, in addition to being visually compelling and well composed, we were drawn to pictures that reflected in some way the enormous breadth of our science. The way to depict that broadness of scope was, of course, a matter of scientific and artistic individuality – individuality which is patently evident when inspecting the pictures below. We hope you will agree that our final selections are worthy winners. While your aesthetic opinions may not exactly tally with ours, we confidently expect a correlation between our and our readers' rankings of a strength which would, in normal circumstance, merit publication.
Overall winners
Looking through the entries was a fascinating journey into a thriving jungle of ecological research – all the more enjoyable because many of the images submitted were visually stunning. This wasn't simply a search for an amazing picture, however. Just as important were the ecological processes depicted. Ideally, images should immediately hint at one or more ecological processes, yet leave some hidden depths which open up on closer inspection.
The large number of highly commended images shows just how many ecologists have an eye for combining beauty with ecological insight. Five or six in particular gave the winning entries a run for their money. But in the eventual winner we recognised an extra quality: not only are the colours and composition eye-catching, they are the very basis of the underlying ecology – a dynamic that is being played out at a number of different levels and timescales. Even more impressively, this is revealed through the picture in such a clear way that it is immediately obvious, even to the layman. The image, taken by postdoctoral researcher Moritz Muschick from University of Sheffield, depicts the startling camouflage of a
Timema poppensis
stick insect against its host tree, the redwood
Sequoia sempervirens
(Figure 
1
).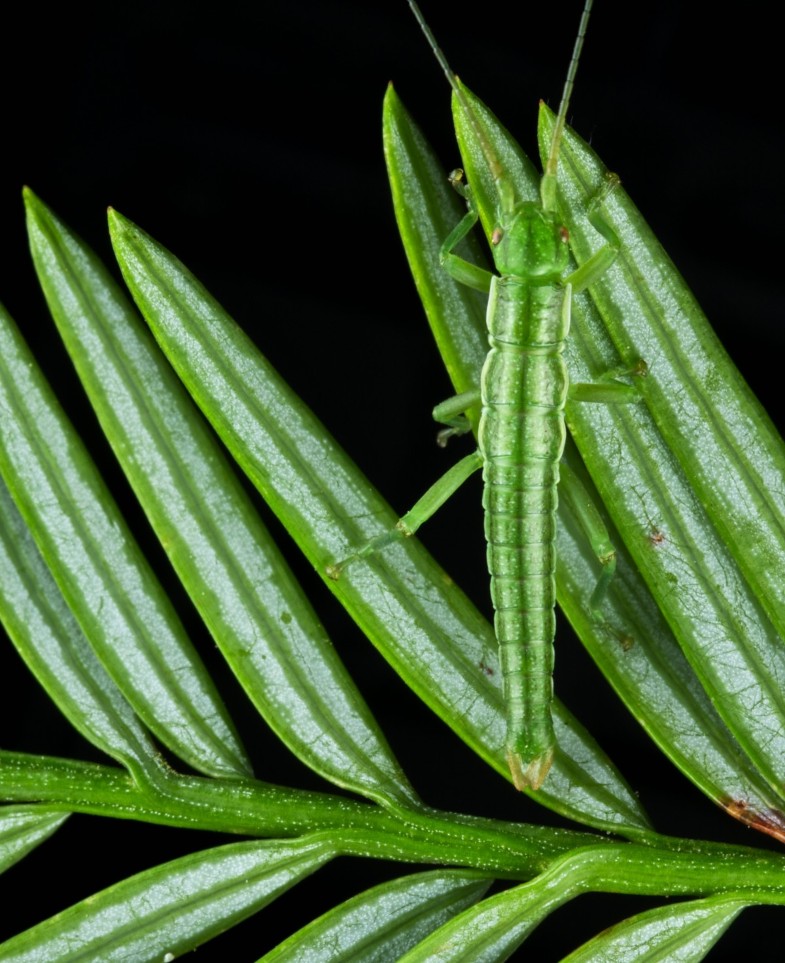 From a purely visual point of view, the picture is striking: an almost geometrical arrangement whose two-toned green stripes stand in stark contrast to the pitch black background. This contrast only heightens the incredible visual similarity between the insect and the plant. The match is even more impressive considering that they come from very different branches of the tree of life.
The insect's camouflage is broken somewhat by its orientation and an errant back leg, hinting that it is in the process of moving to an adjacent needle. We humans like reading this sort of dynamism and intentionality into a picture. In this case, however, it also serves as a counterpoint to ecological dynamic and an unconscious intentionality taking place on a rather different timescale – the millennia of adaptive change that have led to the evolution of this insect's elegant colouration. A major factor in choosing this image as the winner is that it manages a seemly impossible task: to visualise an immensely long-term ecological process in a single static shot.
A moment's thought reveals that the evolution of this camouflage may not be simple, because this sequioa is the insect's host plant. While the insect benefits from its camouflage, the tree (presumably) suffers increased herbivory. This is ecological coevolution along the lines of Batesian mimicry. The accompanying text introduces the further topic of ecological speciation and generation of diversity—a topic of wide relevance to ecologists. And those are not the only hidden depths. At first glance, this looks like a picture which suffers in comparison to some other images in the competition, in that it involves only 2 species. There is however, a third player in the story – a role which we the viewers have assumed by simply glancing at the picture. It's as if we are looking at the scene through the very eyes of the predatory birds responsible for selecting this pigmentation. This is a winning picture because the viewer is, perforce, involved in the ecological process it depicts.
As a runner-up, we have selected a dazzling scene from Colorado of a subalpine flower meadow (Figure 
2
). Composing a photograph of this nature is surprisingly difficult, and Benjamin Blonder [
7
], a PhD student from University of Arizona, deserves congratulation for such a captivating portrayal of what it means to be biodiverse. The emphasis here is not on survival, but on reproduction: the dull but functional photosynthetic green seems an almost insignificant background compared to the waving of riotously coloured floral genitalia.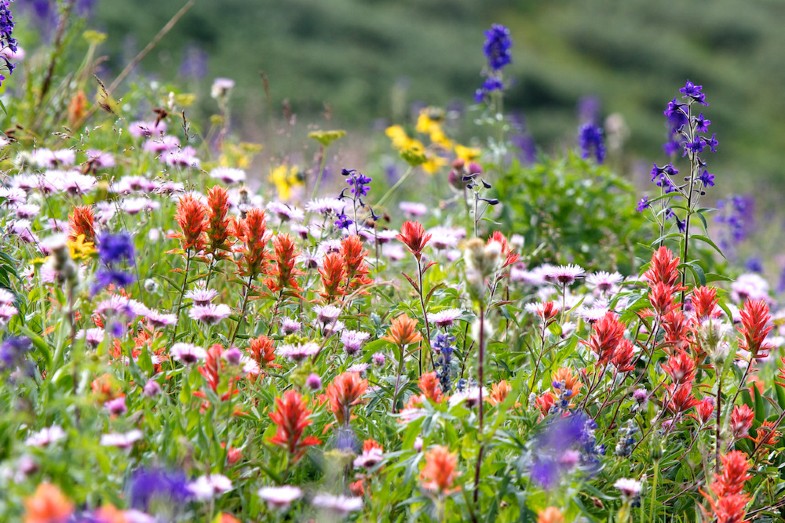 Although it can be seen as a poster child for the beauty of our science, it is only when we force ourselves to view the picture through an ecologist's eye that the true depths are revealed. What is it that allows such a diversity of forms and colours to coexist in an otherwise similar patch of ground? To whom are these flowers advertising, and what does this scene look like through their eyes? Like the winning image, the ecological emphasis of this photograph is on vision. But there the similarity ends. The similarity between the visual systems of humans and birds does not obviously extend to insects, the intended receivers of these plants' signals. We should perhaps be thankful that as unintended recipients, we can see beauty in this picture.
Section winners
BMC Ecology is currently divided into several editorial sections by subject area, overseen by a group of academic Section Editors who were each asked to choose a winning image that best represented their specialist field of research. All entries were anonymized before being sent out for judging, and here some of the Editors outline why they feel these images were worthy winners of the category prize:
Declarations
Acknowledgements
We would like to thank all of the many entrants that took the time to participate in the competition, and share with us their incredible images - and the fascinating stories behind each one. SH would also like to thank the many people that supported and promoted the competition throughout its duration, especially Genevieve Horne, Shalene Singh-Shepherd, Jo Appleford-Cook, Elizabeth Moylan, Deborah Kahn, Matthew Cockerill, Michael Hallworth, Vanja Merrild, Ruth Francis, Philippa Harris, Natalie Shon and Emilie Aimé (for lending me A Sand County Almanac).
Authors' Affiliations
(1)
BioMed Central, London, UK
(2)
Sue Rider Management, London, UK
(3)
Institut de Systématique, Evolution et Biodiversité, Muséum National d'Histoire Naturelle (MNHN), UMR 7205, Paris, France
(4)
Dept of Zoology, University of Oxford, Oxford, UK
(5)
CNRS, Station d'Ecologie Expérimentale du CNRS à Moulis, USR 2936, Saint Girons, France
(6)
Centre for Ecology and Conservation, Biosciences, College of Life and Environmental Sciences, University of Exeter, Penryn, UK
(7)
Department of Community Ecology, Helmholtz Centre for Environmental Research-UFZ, Halle, Germany
References
Leopold A: A Sand County Almanac: And Sketches Here and There. 1949, UK: Oxford University PressGoogle Scholar
Natural History Museum/ BBC Worldwide Wildlife Photographer of the Year.http://www.nhm.ac.uk/wildphoto,
National Geographic Photo Contest.http://ngm.nationalgeographic.com/ngm/photo-contest/,
Biology Image Library.http://www.biologyimagelibrary.com/,
A Scientific View.http://yanwong.me/,
Wytham Woods Appeal Fund.http://www.wytham.ox.ac.uk/,
Natural Curiosities.http://bblonder.wordpress.com/,
Hara Woltz.http://harawoltz.com/,
Jia Y: The oldest and largest terrace rice paddy in the world. Biol Image Libr. 2013,http://biologyimagelibrary.com/imageID=65539,Google Scholar
Gokhale CS, Traulsen A: Evolutionary games in the multiverse. PNAS. 2010, 107: 12-10.1073/pnas.0912214107. 5500-5504View ArticleGoogle Scholar
Wisbech Carstensen D: Halictid bee collecting pollen from a Vellozia in Serra do Cipó, Brazil. Biol Image Libr. 2013,http://biologyimagelibrary.com/imageID=64983,Google Scholar
Inouye DW: Broad-tailed hummingbird (Selasphorus platycercus) male visiting a flower of scarlet gilia (Ipomopsis aggregata) at the Rocky Mountain Biological Laboratory (Colorado). Biol Image Libr. 2012,http://biologyimagelibrary.com/imageID=64660,Google Scholar
Dubey S: Communication in bulldog ants (Myrmecia gulosa). Biol Image Libr. 2013,http://biologyimagelibrary.com/imageID=65360,Google Scholar
Ben Mocha Y: Arabian babbler group allopreening in front of a neighboring group during a border confrontation. Biol Image Libr. 2012,http://biologyimagelibrary.com/imageID=63580,Google Scholar
Viblanc VA, Smith AD, Gineste B, Groscolas R: Coping with continuous human disturbance in the wild: insights from penguin heart rate response to various stressors. BMC Ecol. 2012, 12: 10-10.1186/1472-6785-12-10. doi:10.1186/1472-6785-12-10PubMed CentralView ArticlePubMedGoogle Scholar
Creative Commons Attribution License.http://creativecommons.org/licenses/by/2.0/,
Imaging Ecology.http://www.flickr.com/groups/imaging_ecology/,
Copyright
© Harold et al.; licensee BioMed Central Ltd. 2013
This article is published under license to BioMed Central Ltd. This is an Open Access article distributed under the terms of the Creative Commons Attribution License (http://creativecommons.org/licenses/by/2.0), which permits unrestricted use, distribution, and reproduction in any medium, provided the original work is properly cited.