Research article
Open Access
A specialist-generalist classification of the arable flora and its response to changes in agricultural practices
Received: 2 October 2009
Accepted: 1 September 2010
Published: 1 September 2010
Abstract
Background
Theory in ecology points out the potential link between the degree of specialisation of organisms and their responses to disturbances and suggests that this could be a key element for understanding the assembly of communities. We evaluated this question for the arable weed flora as this group has scarcely been the focus of ecological studies so far and because weeds are restricted to habitats characterised by very high degrees of disturbance. As such, weeds offer a case study to ask how specialization relates to abundance and distribution of species in relation to the varying disturbance regimes occurring in arable crops.
Results
We used data derived from an extensive national monitoring network of approximately 700 arable fields scattered across France to quantify the degree of specialisation of 152 weed species using six different ecological methods. We then explored the impact of the level of disturbance occurring in arable fields by comparing the degree of specialisation of weed communities in contrasting field situations.
The classification of species as specialist or generalist was consistent between different ecological indices. When applied on a large-scale data set across France, this classification highlighted that monoculture harbour significantly more specialists than crop rotations, suggesting that crop rotation increases abundance of generalist species rather than sets of species that are each specialised to the individual crop types grown in the rotation. Applied to a diachronic dataset, the classification also shows that the proportion of specialist weed species has significantly decreased in cultivated fields over the last 30 years which suggests a biotic homogenization of agricultural landscapes.
Conclusions
This study shows that the concept of generalist/specialist species is particularly relevant to understand the effect of anthropogenic disturbances on the evolution of plant community composition and that ecological theories developed in stable environments are valid in highly disturbed environments such as agro-ecosystems. The approach developed here to classify arable weeds according to the breadth of their ecological niche is robust and applicable to a wide range of organisms. It is also sensitive to disturbance regime and we show here that recent changes in agricultural practices, i.e. increased levels of disturbance have favoured the most generalist species, hence leading to biotic homogenisation in arable landscapes.
Keywords
Crop RotationCanonical Correspondence AnalysisGeneralist SpeciesWeed SpeciesNiche Breadth
Background
The concept of ecological niche as a hypothetical multidimensional space [1] has boosted the exploration of niche properties [2–4] and has enabled generalist and specialist species to be distinguished according to their respective niche breadth. Theoretical studies have tried to evaluate the origins and/or the consequences of niche-breadth differences among species. The "jack-of-all-trades is master of none" hypothesis states that the existence of generalist versus specialist species is the result of an evolutionary trade-off between the ability of species to use an extended range of resources and their capacity to exploit each one with a level of performance above those of competing species [5–8]. This trade-off has been associated with several life-history traits: generalist species are supposed to maintain higher dispersal abilities [9, 10] and to cope more easily with environmental stochasticity [11] while, conversely, specialists would be strongly shaped by intra-specific competition [12]. The generalist-specialist concept could thus be appropriate to find community assembly rules [13], in particular in habitats where communities are subjected to varying levels of disturbance. The distinction between generalist and specialist species can pinpoint general mechanisms of species filtering, similarly to approaches using species traits rather than the species themselves. Indeed, several authors have recently focused on the processes leading to the replacement of many specialist species by a few generalist species that take place in diverse phylogenetic groups such as fish [14], bird [15] or plant assemblages [16]. In parallel to species extinction, this so called 'biotic homogenization' process would characterize the next biodiversity crisis [17].
The weed communities of arable land provide an interesting model for exploring the generalist/specialist concept because the arable field habitat is characterized by an intense disturbance regime and by varying ecological conditions, both within a year (because of management practices) and across years (because of crop rotation). Compared to other vascular plants occurring in more stable habitats, one would expect arable weeds to be generalist species. Indeed, it has been hypothesized that "under a constant environment or slow environmental changes, inter-specific competition involves local processes that favour specialist species at the expense of generalist species, while under moderate to high rates of environmental change, local population dynamics increasingly favour high immigration rates of the generalist over the local competitive ability of the specialist" [18]. However, arable fields can also be viewed as a particular habitat harbouring a set of specialized species (i.e. arable weeds) adapted to frequent but also specific disturbances. Within a year, agricultural practices can be perceived as highly specialized with the single aim of favouring a particular species, i.e. the crop, so that all species in the seed bank sharing the same requirements might well find regularly optimal conditions for completing their life cycle. Large differences between habitat breadth of weed species are observed with some species confined to arable fields in Western Europe (e.g., weeds of winter cereal fields: Agrostemma githago, Bupleurum rotundifolium, etc.) while others are able to grow both in crops and in other less disturbed habitats (e.g., Galium aparine, Lapsana communis). Even within arable fields, differences can be observed in niche position and breadth between weeds that are specialized to a particular crop type or to particular soil conditions, and weeds that are present almost everywhere [19, 20]. Finally, even if arable fields are characterized by stochastic conditions, a specialized species could persist temporally, for example, with dormant diaspores that would wait for optimal environmental conditions e.g., high relative summer air humidity for arable bryophyte species [21] or each time a favourable crop occurs in the rotation [22]. Therefore, even though most agroecosystems experience high levels of disturbance, it is not clear whether the current arable weed flora is dominated by specialist or by generalist species and what would be the resulting variation in ecosystem function [23]. The present paper addresses this question and classifies the French arable weed flora along a specialist-generalist gradient, using vegetation records from a national monitoring network for applying and comparing six different specialisation indices available in the ecological literature. It should be noted here that what is meant by generalist species are species able to exploit many or all the niches within the "arable field" habitat regardless of their ability to occupy other habitats.
A second set of questions relates to possible relationships between the degree of specialisation of weed communities and disturbance regime that are related to the choice of contrasted agricultural management options. In this paper, we focus on two sets of situations that result in different levels and regime of disturbance.
The first situation compares the weed flora in maize cultivated as a monoculture and in a crop rotation. Monoculture means here that the same crop species is cultivated for several consecutive years. Crop rotation means that each year a different crop species is cultivated. Crop rotation induces disturbances that vary with the crop grown each year (planting or maturation dates, growth habit, competitive ability, associated cultural practices, fertiliser requirements and more or less specific herbicides) while the disturbance regime is constant in monocultures. While many recent studies focused on the impact of crop rotation on weed diversity [24–26], the present study aimed to quantify the functional shift in weed composition. There could be two alternative responses of weed communities to crop rotation (i) crop rotation could either favour generalist species and monoculture specialist species, or, (ii) crop rotation could favour specialist species of each crop (i.e., species that are associated with conditions of a particular crop), so that weed communities would mainly be composed of specialist species alternating each year, persisting within the seed bank during the unfavourable years.
The second situation analyses the shift in weed communities that has taken place in the same arable fields between the 1970 s and the 2000 s. It is here assumed that the level of disturbance has significantly increased with agriculture intensification (i.e., increasing number of herbicide treatments, increasing depth and frequency of tillage, see [27]) between the two surveys. Increased N-fertilization and systematic liming or drainage have homogenized soil conditions across the sampled fields. In addition, recurrent changes in cultivation techniques since the 1970 s (tillage or no-tillage systems, new herbicides) are likely to have translated into continuous environmental changes for the arable flora. These changes may have hampered specialist species and/or favoured generalist weed species.
Results
Classification of weed species along the gradient of specialization
In total, 152 weed species were frequent enough to estimate their degree of specialisation (I
S
) with six different indices (See additional file
1
: Classification of arable weed species according to their niche breadth). Each pair of indices were significantly correlated (Table
1
). The I
S
values varied from 15 for
Stellaria media
, the most generalist species, to 145 for
Arenaria serpyllifolia
, the most specialist species (Fig.
1
). The segregation of the values of I
S
in three classes of equal size (n = 38 species) enabled us to distinguish the most generalist species, from I
S
= 15 to I
S
= 53, intermediate species from I
S
= 54 to I
S
= 92 and the most specialist species, from I
S
= 93 to I
S
= 145. At the level of communities, the I
CS
values (i.e., the mean I
S
of the species present in the community) follow a normal distribution and varied from 14.33 to 102.58 (Fig.
2
).
Table 1
Spearman's rank correlation test between the six indices of species niche breadth.
| | I1 (RS) | I2 (CCA-SD) | I3 (CCA-Rao) | I4(OMI) | I5 (IV) | I6 (Sophy) |
| --- | --- | --- | --- | --- | --- | --- |
| I1(RS) | 1 | 0.615** | 0,736** | 0,315** | 0,182* | 0,692** |
| I2(CCA-SD) | | 1 | 0.863** | 0.602** | 0.309** | 0.530** |
| I3(CCA-Rao) | | | 1 | 0.475** | 0.210** | 0.630** |
| I4(OMI) | | | | 1 | 0.260** | 0.226** |
| I5(IV) | | | | | 1 | 0.153* |
| I6(Sophy) | | | | | | 1 |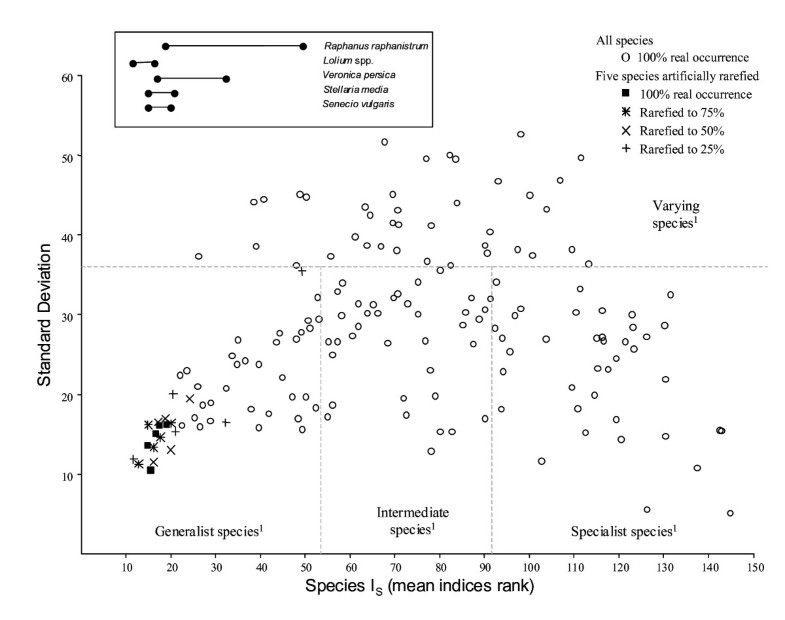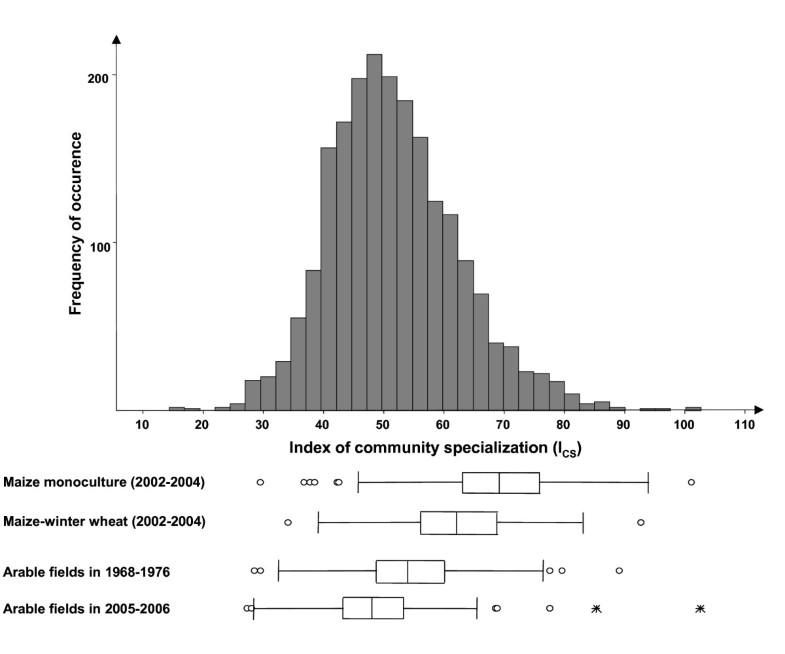 I
S
was negatively correlated with the frequency of occurrence of the species (r= -0.547; P < 0.001) but not significantly with their abundance (r = -0.132; P = 0.110) (Fig.
3
). With the exception of
Raphanus raphanistrum
at 25% of its actual frequency, all six indices classified the species as generalists with very similar positions regardless of their rarefied frequency (Fig.
1
).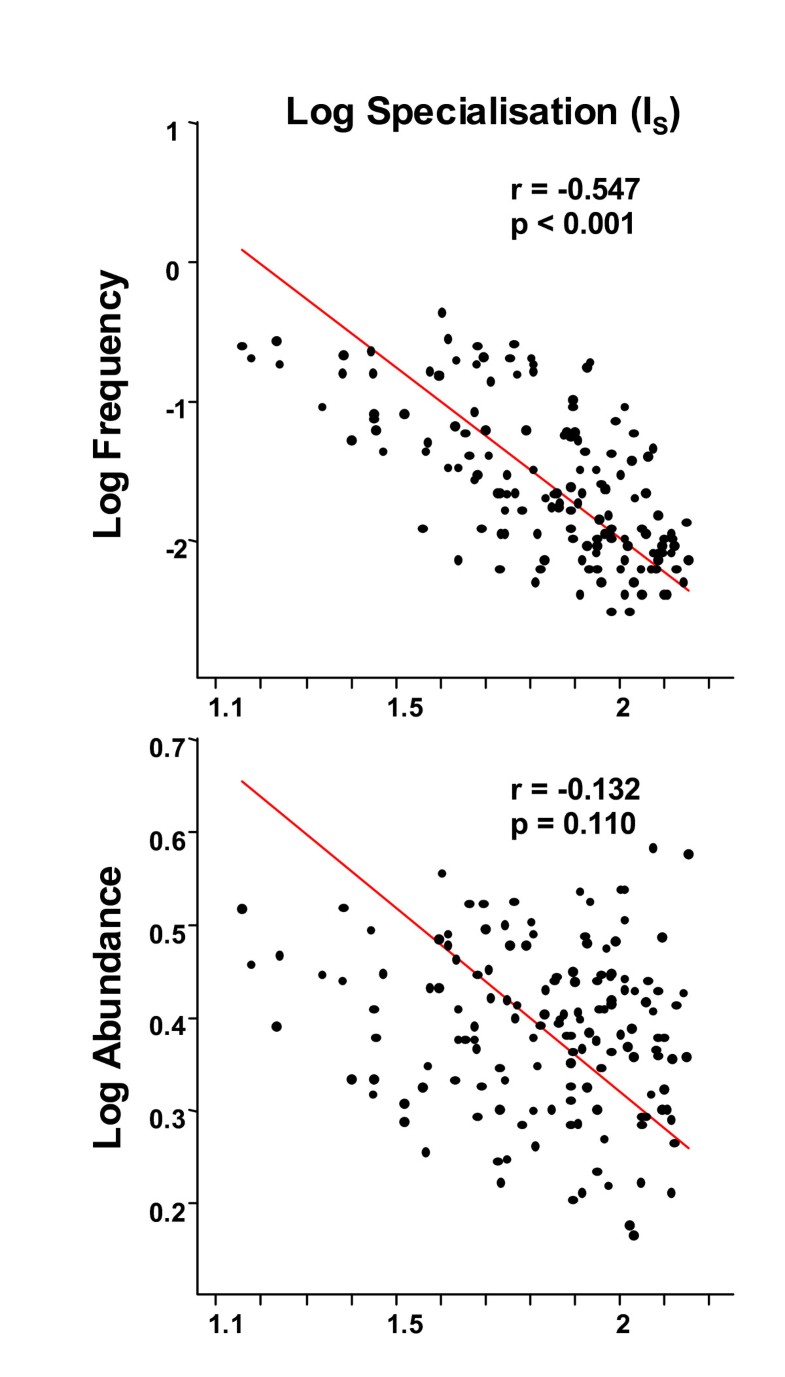 The most generalist species (e.g. Stellaria media, Senecio vulgaris, Capsella bursa-pastoris, Anagallis arvensis) were found on a large range of soil types, climates, crop types and cropping techniques. In fact these species are found all over Western Europe [28], and even in other temperate countries such as Canada. At the opposite extreme, the most specialist species were weed species that all seemed highly specialized on at least two important axes of their n-dimensional niche, e.g., Rumex acetosella was only found in winter crops exhibiting very acidic and sandy soil conditions, while Phalaris paradoxa was only observed under rather oceanic climate, heavy clay and wet soil conditions. At an intermediary level, some species were specialized on one important axis of their niche while being present on a broader range of ecological conditions on other axes. For example, Papaver rhoeas or Veronica hederifolia were associated with a particular crop type (winter cereals) but were present on a large range of soil and climatic conditions while Juncus bufonius was strictly limited to acid and silty soils but was found in various crop types.
Effect of monoculture versus crop rotation
The comparison of maize weed communities in crop rotation
versus
monoculture showed similar field species richness or abundance (Table
2
) while the average specialization index (I
CS
) indicated different species composition (Fig.
2
). More generalist species were observed in fields with maize-wheat rotations (I
CS
= 62 +/- 2), whereas maize monocultures contained more specialist species (I
CS
= 69 +/-1, Wilcoxon test,
P
< 0.01). This was mainly due to the high proportion of generalist species when maize is grown in crop rotation (Table
2
). The generalist
Chenopodium album
was the dominant species in both monoculture and crop rotation, followed by the two specialist species
Echinochloa crus-galli
and
Amaranthus retroflexus
in monocultures and the two generalist species
Polygonum aviculare
and
Fallopia convolvulus
in rotations. The two cropping systems were not evenly distributed between the different soil types, with proportionately more fields with crop rotation on clay soils and sandy clay soils, and more fields with monocultures on sandy soils (Table
3
). However, the distribution of I
CS
values across soil types presented in Fig.
4
shows no significant effect of soil type on I
CS
of weed communities.
Table 2
Mean species richness, abundance and ecological specialization of weed communities per field:
a - Between cropping systems

b - Over time

Mo

Ro

P

1970s

2000s

P

Wilcoxon Test

Mean species richness

12.59

14.06

P = 0.07

16.56

9.34

P < 0.01

Mean abundance

9.56

8.11

P = 0.07

61.5

20.2

P < 0.01

Khi2 Test

Khi2 = 84.5

P < 0.01

Khi2 = 64.0

P < 0.01

Sum of occurrences for:

Generalist species

1129

1154

2180

1351

Intermediate species

777

485

676

405

Specialist species

429

268

344

99

Total

2959

2377

3200

1885
Table 3
Distribution of cropping system according to soil types.
| Soil types (texture) | Monoculture | Crop rotation | Total |
| --- | --- | --- | --- |
| Clay | 16 | 15 | 31 |
| Clay loam | 36 | 21 | 57 |
| Sandy clay | 7 | 9 | 16 |
| Silt loam | 25 | 13 | 38 |
| Silty clay | 12 | 10 | 22 |
| Sandy loam | 9 | 7 | 16 |
| Sand | 44 | 4 | 48 |
| Total | 150 | 78 | 228 |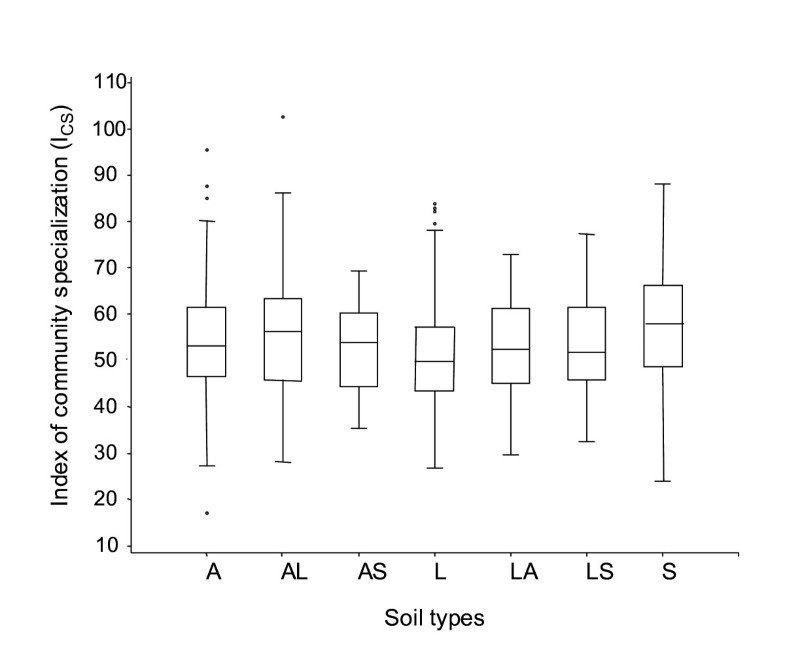 Evolution of the specialist-generalist ratio over the last 30 years
Between the 1970 s and the 2000 s, weed species richness significantly decreased from 16.56 to 9.34 species per field and species density from 61.5 individuals per m2 to 20.2 (Table 2). Among the 121 species recorded in both surveys, 48 species significantly decreased in frequency and only 12 significantly increased.
The index of community specialization ICS significantly decreased from ICS = 54.25 +/- 0.97 in the 1970 s to ICS = 49.02 +/- 1.04 in the 2000 s (Fig. 2, Wilcoxon-Test, P < 0.001). The frequency of generalist species was either stable (Capsella bursa-pastoris, Lolium multiflorum, Poa annua, Taraxacum officinale) or increased (Lactuca serriola, Senecio vulgaris), while the frequency of specialist species fell (Arenaria serpyllifolia, Lithospermum arvense, Legousia speculum-veneris, Stachys arvensis). There was a higher proportion of specialist species in the 1970 s while the weed communities of the 2000 s were characterized by a higher proportion of intermediate and generalist species, with 90% of the effect attributable to the loss of specialist species over time (Table 2).
Conclusions
This study aimed to classify arable weeds along a generalist/specialist continuum and to assess if differences in disturbance patterns could lead to differences in the representation of generalist and specialist species in plant communities. Our study extends ecological approaches to an environment highly disturbed by human activities where it is not often easy to get clear expectations between contrasted and/or opposite forces that govern the assembly of community. The distinction of species into generalist or specialist species helps to highlight the general rules in the assembly of weed species into communities [39]. In our case, the classification of 152 arable weed species along a specialist/generalist gradient gives insights to their contrasted responses to changes in agriculture. We show that the relative proportion of generalist and specialist species is not constant but varies in relation to the frequency and intensity of disturbance that result from agricultural practices. Our results also show that, despite the high level of disturbance that characterises agroecosystems, ecological theories developed in more stable environments do apply and that either a sequence of disturbances of different nature (crop rotation) and/or the intensification of disturbances have favoured the most generalist species.
Declarations
Acknowledgements
The authors wish to thank all the people involved in the French weed monitoring network 'Biovigilance Flore' for providing data, as well as Gilbert Barralis for conducting the first regional weed survey. The current field survey has been financed by the French Ministry of Agriculture. Guillaume Fried has benefited from a 'Formation Complémentaire Par la Recherche' fellowship from the French Ministry of Agriculture. The study has been partly granted by the ANR-OGM VigiWeed project. The helpful suggestions and insights emerging from the critical review by Wilfried Thuiller from LECA, Martin J. Lechowicz from McGill University and Sabrina Gaba from INRA Dijon were gratefully appreciated. We thank Jean-Luc Demizieux for improving our manuscript. We are also grateful to Les Firbank for providing useful scientific suggestions and improving the grammatical quality of the manuscript. This research was conducted in accordance with the laws of France.
Authors' Affiliations
(1)
INRA, UMR1210 Biologie et Gestion des Adventices, Dijon, France
(2)
LNPV, Station d'Entomologie et Plantes Invasives, Montpellier, France
Copyright
© Fried et al; licensee BioMed Central Ltd. 2010
This article is published under license to BioMed Central Ltd. This is an Open Access article distributed under the terms of the Creative Commons Attribution License (http://creativecommons.org/licenses/by/2.0), which permits unrestricted use, distribution, and reproduction in any medium, provided the original work is properly cited.